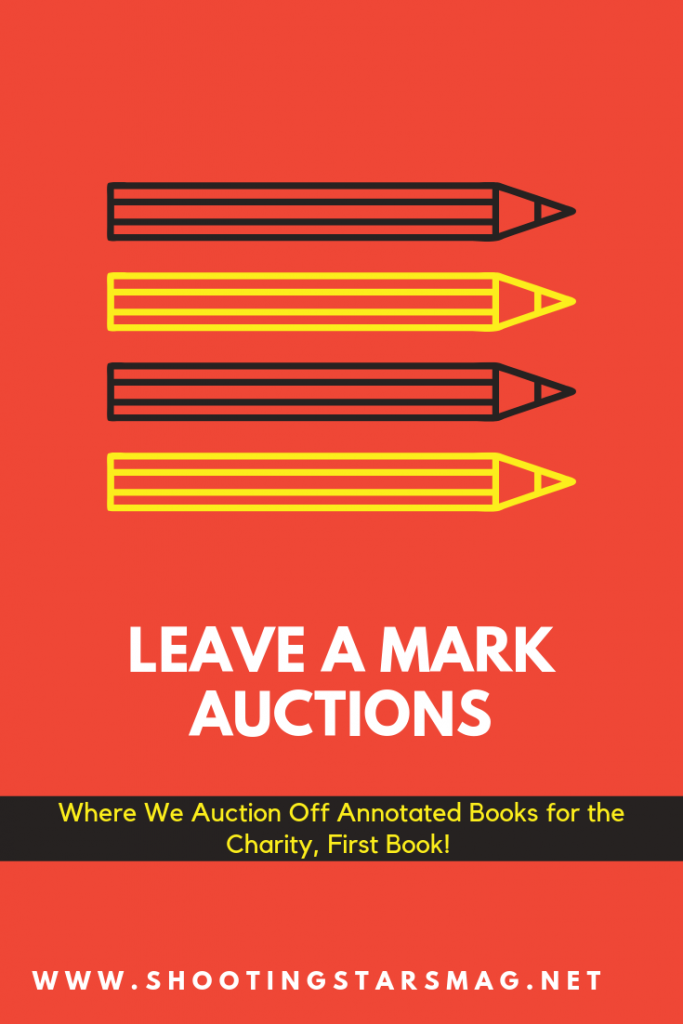 If you've been reading my blog for awhile, then you might remember Leave a Mark Auctions. I created these auctions back in the day to benefit the charity First Book. I've had auctions over the years, sometimes with the money going to other charities/recipients, but I've decided to bring them back indefinitely and all the money will be going to First Book again (unless the author donating their book wants a specific charity).
What are Leave a Mark Auctions?
authors mark up (or annotate) one of their books
other famous names (actors/musicians/etc) mark up (or annotate) one of their favorite books
these books are then auctioned off online. I've had websites for this in the past, but all of the auctions will now be on my blog so they are easier to find and promote
auctions start at $10 USD; bids go up in $1 increments. So the first person can say $10, the next person has to at least say $11, but they can go higher. Each auction will probably last about 2 weeks, but be sure to carefully read each individual post for any changes!
once the auction has ended, I will contact the winner and they can make their donation to First Book. They will forward me their donation email and I will make plans to mail out their book!
depending on who is mailing the book, that will determine who is eligible to bid (U.S., International, etc.)
If I'm mailing the book, I'm going to try my best to make them all International so people have a fair shot at bidding and winning one of these books.
Shipping is tough though, so if you want to help with my future shipping/blog costs, feel free to donate to my Paypal Account. 
I'm hoping to keep these auctions running long-term; ideally that would be at least one auction a month, but we'll see how it goes. I'm still looking for donations, so if you are an author who wishes to annotate a book for us, please do get in touch! Feel free to talk to authors you love about this too – though don't bug anyone or pressure them! 
Time to Bid!
The last time I had these auctions, I accepted books that were simply autographed by the author. I have one of those books left, so I'm going to do their auction first to get Leave a Mark off to a start. The rest of the books should all be annotated though, so be on the look out for those!
Open Internationally
Start at $10, go up in $1 increments
if you have questions, feel free to leave a comment or email me
all bids go in the comments
Auction ends: Friday, August 2 at 11:59 p.m. EST
You are bidding for an AUTOGRAPHED only copy of One of Us Is Lying by Karen M. McManus. I really loved this book, and the sequel is coming out soon, so get your hands on a signed copy now!
I'm updating this auction to let everyone know that for this book, all money will go to METAvivor, which is a charity that Grace from Rebel Mommy Book Blog supported. If you didn't hear, she passed away last week, and I'd like to help honor her, so if you're the highest bidder for this book, your money will go to a charity she loved. Also, about five weeks ago on Instagram, Grace was reading One of Us Is Lying, so I figured it was even more appropriate. 
View this post on Instagram
Ready, Set, Bid!
Leave a Mark Auctions: Bid on a SIGNED copy of One of Us Is Lying by Karen M. McManus; all money goes to First Book #oneofusislying #books
Click To Tweet