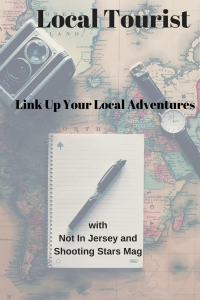 It's that time of the month already! Every last weekday of the month, Dara from Not In Jersey and I share all the local tourist things we did: places we went, things we saw/ate, etc. If you want to join us, please link up at the bottom of this post! We'd love to have you. For your calendar, the next Local Tourist dates will be: Friday June 29, Tuesday July 31, and Friday August 31.
Looking Back On May – Local Tourist Style
Mother's Day was Sunday, May 13 and my parents, sister, and I went to Vinoklet Winery, Restaurant and Vineyard. We'd never been before but I came across their Mother's Day brunch online and we thought we'd check it out. It's such a beautiful place! We took a few photos outside (you can see one above) because it was so gorgeous. As for the actual brunch, I have to admit it was only okay for me but everyone else seemed to really like it. I'd be curious to go back and check out the actual restaurant. I think brunch style was a bit difficult to pull off – the room was kind of small and my meat got cold. The dessert, on the other hand, was quite tasty!
After eating we went outside to take the above mentioned photos but to also check out some various vendors and craft booths that were set up. I immediately checked out the ladies who were selling LulaRoe because I've been wanting more of their Perfect T's. Thankfully, I found one in my size that was really cute (I don't always like the patterns). It was a fun day and my whole family did agree we should go back.
***
Local Tourist May 2018: Share your local adventures from the past month! #localtourist #ontheblog
Click To Tweet
This past weekend I did a couple Cincinnati-area things, but I already blogged about that on The Weekend That Was: Happy Memorial Day! 
Please link up here!