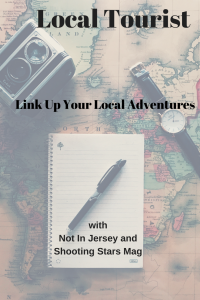 September is coming to a close and it's time to look back on the month that was with Dara from Not In Jersey. Did you do any fun, local things this month? Please link up below!
Let's Look Back at September 2018
** On Saturday, September 1, I attended the 2nd Annual Potter in the Park in Ohio. If you're a Harry Potter fan, then you know that September 1 is when students go back to Hogwarts, so it fell on a great date. Unfortunately, it was really hot that day, so we didn't stay too long. It was fun though and both my sister and I bought something. It was fairly similar to last year's, so I didn't do a full post but you can read about the first Potter in the Park here.
If you read the Instagram post above, you'll see that I saw the first Harry Potter movie in theaters on August 31. Since that's when I posted the last Local Tourist, I didn't mention that event…so I thought I would here. I was a fan of the HP books before the first movie, so I saw it in theaters, but I was young, so it was nice being an adult and getting to experience that magic on the big screen again. Plus, I went with a friend who hadn't seen the HP movies in theaters until the 3rd, so that was fun!
** I had a few other fun, local events planned in September but I got sick one weekend and that's when most of my plans fell, so unfortunately, they didn't work out, which I'm kind of bummed about.
** However, this past weekend, one of my best friends and I attended a Women's Wellness Weekend at what's usually a summer camp for kids. It was so much fun and I will do a complete post on that, but I wanted to mention it here! Do you have any questions? I'd be happy to answer them in my actual post if you're curious about anything in particular! 
September Local Tourist: Did you explore anywhere fun where you live this month? Let us know and #linkup #ontheblog
Click To Tweet
** Last night my sister and I went to something called Slice Night in Cincinnati. You pay $15 if you buy a ticket beforehand – which we did -and then you go and eat as much pizza as you want from various Cincinnati-area pizza places. There was even some free ice cream, so you really only had to buy a drink when you were there. All the money goes to cancer research, so it's yummy AND a good cause!
**This Sunday I'll be attending the Renaissance Festival for the first time this year and I'm so excited. Rain and sickness ruined my previous plans to go – and I'll be with a friend who has never been – so I'm ready to go. I'll post more about that in October, which is Monday! Can you believe it?
So tell me: What September events did you attend? Try a new restaurant? Anything and everything local works! Link up below and we'll visit you ASAP!