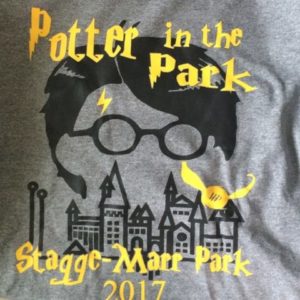 On Saturday, September 2, I attended the first Potter in the Park in Goshen, Ohio. I had my mom and sister come along with me, and while it was spitting rain the entire time we were there, we still had a good time (and I hear the rain did finally stop)! I'm very excited there are plans to bring this back next year because I will definitely be going again and if you live near enough, you should come too!
Potter in the Park, is obviously, all about Harry Potter and took place at the Stagge-Marr park in Goshen. You had to pay about $3 to enter the park, but other than that, what you purchased was up to you!  At first, I looked around at all the tents to see what was available to buy, taking pictures of the cute decorations throughout the park.
I ended up buying a print of a Niffler with a Slytherin scarf because really, how could I not? (the print was from Mrs. Frankenstitches) Plus, it was $10 which isn't too bad!
After that, I went to check out the dragon that was built especially for the event. It was so cool looking up close! They even had some dragon eggs under it. I definitely had to get my picture taken here; it's the perfect photo-op for any Potter fan!
Having driven a bit to get to Goshen, we were all hungry so we went to the food area to see what was on offer. I do think it would be cool if they had more options for next year, but for the first time doing this, it worked well. My sister and I got some pulled pork which wasn't too bad and my mom ordered a Chicago style hot dog from a food truck, which she loved! There were some other fun options too, but this is all we got from that particular area. I knew there were some sweets and butterbeer available back by the other booths, so I had to save some room for that!
We ate our lunch at a covered area full of picnic benches. What was cool about this area is that they had hanging "candles" so it looked like the floating candles in the Great Hall of Hogwarts. These fun touches really added to the whole day!
After lunch, I went to what was dubbed Honeydukes to check out their fun goodies. I got a brownie with icing and my mom got a cupcake, and then I got some Jelly Slugs (sour gummy worms) for later. Then I had to get my own butterbeer, which was quite tasty! They had adult versions elsewhere too, but I don't drink alcohol, so the regular one was fine by me!
I also took the time to get a picture taken with the Have You Seen This Wizard? sign someone had made. Like I said before, you have to take advantage of these fun photo-ops! Finally, I went back to the beginning of the park to purchase one of the official Potter in the Park t-shirts. It was too cute; I had to have one!
There were other things throughout the park that I didn't get to see like some animals, the mirror of Erised by the lake, and even a wagon ride (it was spitting rain, so we opted out of even trying that!) Despite not taking advantage of all Potter in the Park had to offer, we all still had a great time.
It was fun seeing everyone with their Harry Potter costumes and t-shirts. Hopefully the weather will be better for everyone next year, but regardless, I'm sure I'll be there! It was too fun to miss out on.
Potter in the Park 2017: An Event Review #harrypotter #ontheblog
Click To Tweet