*affiliate links; any purchase helps me a small % at no extra cost to you*
Mary: The Adventures of Mary Shelley's Great-Great-Great-Great-Great-Granddaughter by Brea Grant and art by Yishan Li
copy for review; all opinion are my own
Official Summary: Everyone expects sixteen-year-old Mary to be a great writer. After all, her mother, her aunt, and her grandmother are all successful writers (as they constantly remind her)–not to mention her famous namesake, the OG Mary Shelley, horror author extraordinaire. But Mary is pretty sure she's not cut out for that life. She can't even stay awake in class! Then one dark and rainy night, she's confronted with a whole new destiny. Mary has the ability to heal monsters… and they're not going to leave her alone until she does.
With the help of a mysterious (and mysteriously cute) stranger, a Harpy, a possessed stuffed bunny, and her BFF Rhonda, Mary must uncover her family's darkest secret if she's going to save the monster world… and herself.
Review: This was a really fun YA graphic novel. I love that it's meant to be about Mary Shelley's ancestors, and how all of them are apparently very successful writers. There's something else about the Shelley family though, and all will eventually be revealed to Mary, and the readers.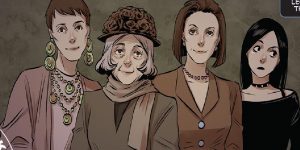 This is the beginning of a series, but I still felt like it was entertaining enough while allowing you to get to know the modern-day Mary Shelley and her family and friends. Her ability to heal monsters was really interesting, and I can't wait to explore that more in the future. I felt like the illustrations were done really well, and Yishan Li was great at capturing the many dark and rainy nights in the novel.
I wasn't a huge fan of Mary's mom in this one, but I think readers (and Mary) start to figure her out more by the end of this book. However, I did really love her aunt and dad – who is divorced from her mom but still present. There were many well-done secondary characters, which I highly enjoy, especially with graphic novels since you really get to see everything played out.
This is a quick read; I finished it in one night! I'm definitely curious to learn more about Mary Shelley and her family – and perhaps even more about the OG Mary Shelley!
What do you think of this one- would you read it? Have you ever read Frankenstein?