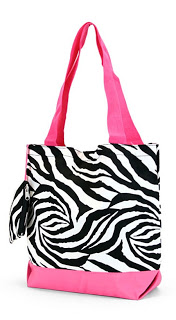 Zebra Tote and Hot Pink Bottom (Large) Review
Review by: Chris (aka Lauren's mom!) with help from Lauren.
Main Site: http://www.misslucysmonograms.com/
Review:
It's fun to pick out your pattern. Monogram is in, so it's definitely cool that you can add that to your bag. I put my initials on the bag, but you can put your first name. There are a variety of colors for the thread and different types of styles for the monogram. The actual bag is very deep so you can use it for a variety of things including groceries, books, or even as a great over-night bag. It fits well on your shoulders so you don't have to worry about it sliding off. I think the straps might be wider, but in any case, it's definitely a good bag to carry around.
It has a little change purse inside which is great to carry a driver's license or other little items in. This would be awesome if you were using your bag to go to the gym or somewhere else you wouldn't want to carry your actual purse too.
Overall, I think this is a multi-versital bag and it comes in handy when carrying my medicine around places.
Prize: $30 Gift Code to the Site (U.S. Only) shipping is not included – merchandise only.
To Enter: Sign up for their newsletter here. Scroll down, it's on the left side in the column, and you'll give your first name and email address.
Ends: September 30th
+1 follow this blog (leave a new comment)
+1 for each giveaway you enter on this site (leave a new comment)
Disclaimer: We were sent a tote for review, but no other compensation was given. All opinions are own and not influenced by the company.