Happy Mother's Day!

Alright, you technically have a few weeks but it's definitely time to start planning either 1. what you want to get your mother and/or 2. what you want for your own Mother's Day celebration. I'm not a mom myself, unless you count being a cat mom. However, my mom is one of my best friends – and many of my friends are moms, some for the first time this year – so I wanted to join in this fun blog-wide giveaway and celebrate all those moms out there (furry or human!) Before we get to the big giveaway, I wanted to share a quick

Mother's Day gift guide

to give you some more ideas (any affiliate links means I get a small % of any sale at no extra cost to you).

I love shopping for my mom because she's one of the few people that I can usually come up with fun some options for. I know this isn't the case for everyone so I hope that some of these ideas will help you out, this year or in the future.
Mother's Day Gift Guide
(One) Precious Moments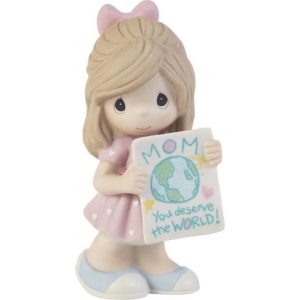 My mom used to collect Precious Moments and I think they are just adorable. You can find things for all sorts of occasions, both big and small. I thought I'd share some of their Mother's Day items that I find especially delightful. If you wish to see more or purchase an item, you can use my affiliate link for their Precious Moments Mother's Day Gifts.
There are even some cute grandmother options, because you can't forget the OG moms, right?
(Two) OOLY
You might know OOLY in terms of craft products for your kids, but they actually have some options for moms so I thought I'd share a few of those in this mother's day gift guide.
Know a mom who likes to annotate their own books, or maybe they are just a planner? You can get them the Writer's Duo 2-in-1 Fountain Pens and Highlighters!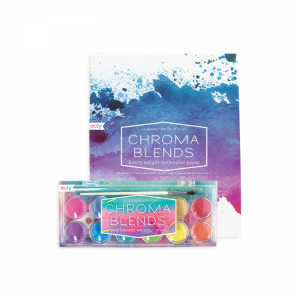 What about a mom that's really creative and likes to paint, or try new ways of being artistic? You can grab them the Pearlescent Watercolor Pack which comes with watercolor paper, paints, and a brush. Everything you would need to get creating!
(Three) SinglesSwag
Not every mom is part of a relationship, so I had to include them in my mother's day gift guide. SinglesSwag is a monthly subscription box to celebrate all those single ladies! You can expect to find items such as beauty products, snacks, books, and more. I'd be thrilled to receive one of these boxes!
Some things to note:
Free U.S. Shipping
They Ship Worldwide
Two Box Choices: 4-5 full sized products or 7-8
(Four) Annie's Kit Clubs
I love a good craft and what's even better is when all the supplies you need is sent to you! That's where Annie's Kit Clubs come in. They have them for all types of crafting needs – beading, quilting, card making and more!
Personally, I like the Creative Woman kits because you get to learn a new craft each month. If you're interested, you can get 50% off your first shipment: Give Me 50% Off! Click that link or use the code SHARE50 when you order. This never expires either, so you have time.
(Five) KindNotes
I love KindNotes. I actually bought my mom one years ago, and I gave another to a friend who was studying abroad for a year.
KindNotes offers jars of themed or personalized messages enclosed in mini decorative envelopes for the recipient to open each day or anytime they need a smile. This unique gift idea brings back the sentiment of an old-fashioned letter in the midst of modern-day technology and emails.  
There are beautifully designed jars for all types of occasions, and each one includes 31 little notes the recipient can pull out and read. You can even customize your own messages if you wish! Of course, they have all sorts of fun Mother's Day jars – you can see some of them above.
I love this idea because many people are still not able to really see family, so a KindNotes jar would be the perfect "gift that keeps on giving." Plus, it really reminds people – near or far – that you love them and are thinking of them.
(Six) Books
I can't finish a Mother's Day gift guide without sharing some book suggestions. Here are some possible book ideas to give as Mother's Day gifts. Share your own suggestions in the comments!

AKA Chrissy Teigen's mom. When it comes to cooking, she got it from her mama!

Who doesn't love Dolly Parton? This book includes the stories behind Dolly's lyrics. I got a copy for my own mom this past Christmas, and she loves it!

After the crazy year we've all had, I think a lot of moms could appreciate this book. Plus, I've heard good reviews!

For the moms who love music, this is a great choice! Dave Grohl's mom interviews and spotlights a wide variety of moms who helped raise rock stars – including Miranda Lambert, Dr. Dre, and more. I'm reading this now and loving it.
I hope you found something you liked in the above Mother's Day gift guide. I had a lot of fun putting this together! You can't go wrong with some DIY Mother's Day gift ideas too. 
Now on to the giveaway!
We are so excited to be giving away $430 in gift cards for Mother's Day to two lucky readers. The giveaway will run from April 22 – May 7.
The prizes are:
1 – $215 gift card

1 – $215 gift card
Each winner will choose the gift card they want. Please choose a gift card that comes from an online store and can be paid in US dollars. EX: Amazon, Target, Walmart, Macy's, Kohls, etc. You may ask for more than one gift card but must add up to your prize amount.
Now it's time to meet our co-hosts who have made this giveaway possible.

The giveaway will end at midnight on Friday, May 7th, a few days before Mother's Day. The winner will have 48 hours to respond to the email claiming their prize. If we don't hear in 48 hours, we will choose another winner. The giveaway is open to anyone over 18 years of age and able to receive e-gift cards from the U.S.