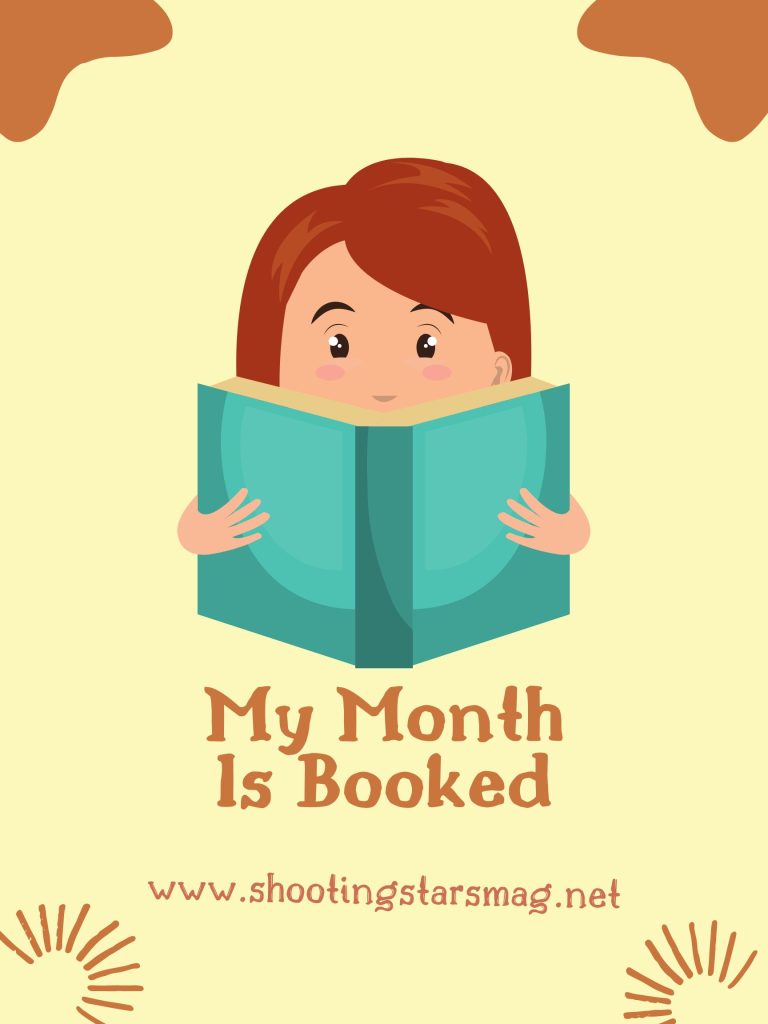 Welcome to the first ever My Month is Booked link-up. This is my version of Show Us Your Books, a monthly link-up where you share what you've been reading. You can use the above image, and hear a bit more about this link-up here.
If you have any type of book review round-up, or just an individual book review (though don't share tons of these), then please link up below. This will be every second Tuesday of the month. Of course, I'm away for this first one – but I will get back to everyone who links up as soon as I can!
*all bookshop.org links are affiliate links*

Onyeka and the Academy of the Sun by Tolá Okogwu 
copy for review; all opinions are my own
Onyeka is a British Nigerian girl who has TONS of hair that she hates dealing with. That is until her hair somehow helps her save her best friend from drowning. Now her and her mom are headed back to Nigeria to learn more about her powers, and try and find her father who has been missing for years. This is a fun, pretty action-packed MG novel. I loved the diversity so much. It's kind of a mix of Harry Potter (but again, way more diverse) and X-Men. I'm definitely curious to see where the series goes.

NOS4A2 by Joe Hill
Charles Manx has created a place called Christmasland, and he steals children to bring them there. Vic McQueen is the only kid who ever escaped Manx, and he'd really like to take his revenge. NOS4A2 is kind of a supernatural, thriller, horror novel. I'd wanted to read it for awhile, so I finally chose it as one of my Christmas in July reads. I liked the overall premise, and book, but I definitely thought it was too long. There were a lot of side POVs and information that wasn't always needed – in my opinion. I think it's worth a read if you're interested though!

People Like Her by Ellery Lord
This book shows the dark side of social media fame. Emmy Jackson is an Instamum in England, popular for sharing the "true, every day life" of being a mum. Of course, she doesn't always tell the truth and she'd rather tell someone what they want to hear than cause any drama. Things start to go wrong though – a break in at the house, etc. The book goes through the POV of Emmy, her husband Dan, and the mysterious stranger who has it out for Emmy. I really liked this book. It was a quick read that kept me wondering.
TRIGGER WARNING: I would definitely look up trigger warnings, or you can message me elsewhere, because there's some content that I could see a lot of parents (especially those with young children) finding triggering or unsettling to read about.
And here are some reviews that I've already shared – 
View this post on Instagram
I read and reviewed Get A Life, Chloe Brown for Disability Pride Month. You can read my full review here, or purchase your own copy! I loved the fibromyalgia rep!
Blackwater by Jeannette Arroyo and Ren Graham
Quick Thoughts (Full Review Here):
* I liked that the authors took turns illustrating chapters. It's not too different to be jarring, and it's kind of cool to see the various styles.
* I liked the paranormal aspect (Eli can see ghosts, and werewolves exist) though I wish we had gotten more of it. Maybe there will be a sequel?
Batter Royale by Leisl Adams
Quick Thoughts (Full Review Here):
I love the locations in the book – I only wish we got to see them a bit more. I know it's not the focus of the book, but it would have been fun. We do get a moment on the London Eye though. The baking show the teens are on is called Batter Royale, and it's pretty crazy what they put these contestants through!

The Doomsday Mother: Lori Vallow, Chad Daybell, and the End of an American Family by John Glatt
Quick Thoughts (Full Review Here): 
Overall, I felt Glatt did a good job presenting the story and background of Lori and Chad. There was obviously a lot I didn't know, and it just makes the case that more bizarre and twisted. Definitely an interesting read for true crime fans, but definitely think about content or trigger warnings!
What have you been reading? 
You are invited to the Inlinkz link party!