Everyone…I would like to introduce you to Alicia who is going to be helping me out with book reviews for awhile, as she didn't feel ready to go ahead and run with her own blog at the moment. So, before we get to her first review (AND her first contest), we have a little intro that she wrote up for you all:
Hi everyone! My name is Alicia and I live in S.F., California. I loooove to read books: mainly YA's, but some adult books too. After watching everyone's blogs for the past 2 years, I decided it was time for me to start reviewing books, and thanks to Lauren (and Chelsea "The Page Flipper") I am able to. I also like to write, and I have a fanfiction and fictionpress account, so if you want the links, let me know and I'll send them to you (they aren't that good.).I love to watch tv and movies.
Some of my favorite shows are: gossip girl, Desperate Housewives, True Blood, Wipeout, and Ugly Betty. Shows that I love that aren't on anymore: Veronica Mars and Gilmore Girls. For the first time ever I am starting to watch Buffy and Supernatural. I'm really exicted about those. I also love watching reality tv.
Some of my favorite movies are: Twilight, How to Deal, A Walk to Remember, Titanic, The Notebook, Sweeny Todd, and The Covenant. I mainly like to watch romance and comedy movies. I get scared easily, so I'm not a big fan of horror movies–I tend to avoid them.
The best part, here are just a few of my favorite books: His Dark Materials Trilogy, Private series, Twilight Saga, Evernight series, Vampire Academy series, The Mortal Instruments Trilogy, books by: Sarah Dessen, Elizabeth Scott, Meg Cabot, Alyson Noel and Deb Caletti.
These are just a few of the many I love. I read almost anything in the YA section, except manga because I can never get into it.My reviews will probably be informal and I will always post my honest opinion. And, I think thats it.
-Alicia

Want to get in touch? http://twitter.com/leasha_91
Title: The Amaranth Enchantment
Author: Julie Berry
Publisher: Bloomsbury
Page #: 306
Review by: Alicia
Summary: It only takes one magical moment…
Lucinda Chapdelaine was orphaned as a young child when her parents left for a royal ball and never returned. Ever since, she has toiled away in her uncle's lonely jewelry shop under the cruel hand of her step-aunt. But now, all at once, Lucinda's lot is about to change.
A mysterious woman, a handsome young gentleman, and an unusual gem all enter the shop on the very same day. The woman is none other than the dreaded Amaranth Witch, and she has a daring task to offer. If Lucinda succeeds, she will not only reclaim all that is rightfully hers, but she will discover a true friend…and perhaps a true love. Family secrets, magical surprises, and another royal ball will test her, but Lucinda is determined to find her own happily ever after.
Review: The Amaranth Enchantment starts out slow and a bit boring, but once you hit the middle it speeds up and becomes interesting. I liked the book, but I thought it would have been better.
I hated the way her aunt was. Within the first few pages you can see what a cruel woman she is. I mean, when you read the book, there's a part that kind of explains why she acts the way she does, but it doesn't justify her being mean to Lucinda. Why did she have to treat Lucinda like dirt? Then again, it sort of is a fairytale and they always need a wicked person in the house with the heroine. And Lucinda's uncle. Don't you think he could have stood up to his wife, instead of letting her be in charge? Usually, the male is always the dominant one, and while it was nice to see a female in charge, it would have been better if she wasn't such a detestable (thanks Ceci!!) person.
I liked that immediately Gregor liked Lucinda. Even though he is a prince, Gregor didn't always act like he was. He was outgoing with her, and broke some rules just to be near her. Most people don't like it when the romance happens in a book too quickly, but I do.
One thing I couldn't understand was why Gregor couldn't remember Lucinda from when they were kids, while Lucinda remembered him. But then again, why is it that the boys never remember, but the girls always do?
Oh, and the way her parents died and what happened to her? Yeah, wasn't feeling it. Shouldn't the uncle and aunt have gotten the house, and jewels and clothes and all that good stuff, instead of having it be sold away? I didn't understand why Lucinda didn't get anything at all, until she met the Amaranth Witch. As for the ending, I'm not going to lie, I thought it was cheesy, especially with what happens to Peter, a thief who's Lucinda's friend. Despite that though, I did enjoy the book.
Cover: I think the cover is ok, but I really like the flower. It goes beautifully with what is in the book.
Overall- 3/5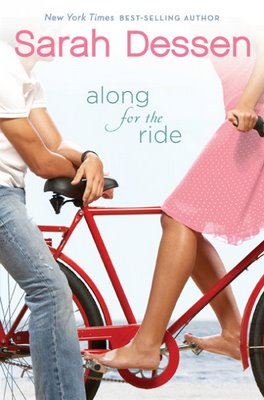 Giveaway time! Alicia has a SIGNED copy of Along for the Ride that she is willing to part with, so here we are:
To Enter: Leave a comment welcoming Alicia and/or your thoughts about her first review!
Open To: U.S. (unless something changes…)
Ends: July 20
EXTRA:
+1 if you follow already or become a new follower (leave a NEW comment for this extra entry though)