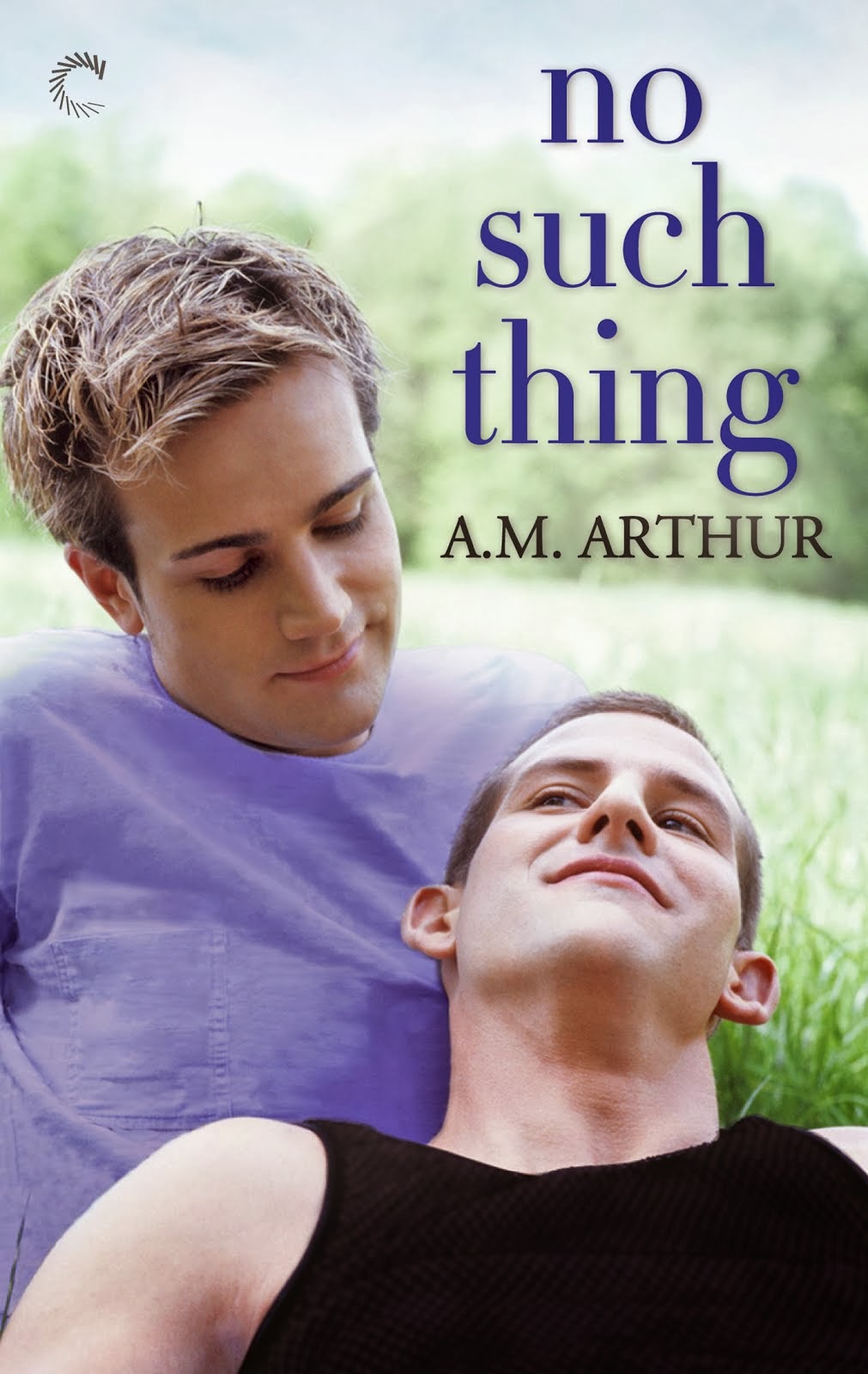 No Such Thing by A.M. Arthur

Review by Lauren

copy from netgalley, but all opinions are my own

Official Summary: Twenty-two-year-old Alessandro Silva knows that returning to tiny Perch Creek to help his foster mother was the right thing to do. With no degree and a delinquent's reputation, he's lucky to have landed a job waiting tables. But not everyone is happy he's back, and the only thing keeping his move home from being a total bust is his boss's hot brother.

Jaime Winters spent most of his life watching the world go by, first from a series of hospitals and then from behind big stacks of textbooks. Studying is easier than facing the fact that years of heart failure means he's still a virgin at twenty-three. Until the new waiter in his sister's diner awakens desires he'd long ago given up on.

The last thing Alessandro wants is to fall for someone as fragile as Jaime. And Jaime may have a new heart, but he's scared of what giving it to another person would mean. Their no-strings-attached, instructional approach to sex keeps emotion safely at bay, until a secret from Alessandro's past forces them to confront their feelings in the present…
Review: No Such Thing is a wonderful romance novel, but it's definitely not for the younger crowd. While there are descriptive sexual scenes, I never found it to be overdone or pointless. Most of what occurs is in terms of Jaime's desire to finally live life and experience various sides of himself. At the same time, readers can see that Alessandro is trying to help and yet still falling for Jaime.
One of the things that made this an enjoyable novel is that it's more than just the relationship and sex. Alessandro has been away for a few years, but being back in Perch Creek means he has to remember his high school years and the many mistakes he made. He has grown as a person and become a much better man, but someone from his past is desperate to keep Alessandro silent on a secret they share and that puts Jaime in danger too.
There are incidents that occur throughout the book that fall under the phrase "more than meets the eye" and I liked that not everything was clear cut and easy to read. No Such Thing isn't a mystery novel, but there are aspects of one throughout the book. You suspect people, you question motives, and you want to know answers. Eventually, all is revealed and things start to wrap up a little.
As I said, I wouldn't have enjoyed No Such Thing nearly as much if it was simply about a couple and their sexual escapades. I've read plenty of romance novels and I don't mind that aspect of a book, but if there isn't more substance, it just feels flat. With No Such Thing, I really felt connected to Jaime and Alessandro and I wished them and their families well. I loved how the people around them were given "book time" and you felt like you knew them. There's Alessandro's foster mother and the two kids she's currently looking after, as well as Jaime's sister, Shannon, who has had to take care of him for a long time. These secondary relationships made the book an emotional, heartwarming read.