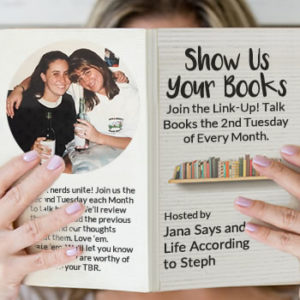 Today is Show Us Your Books with Jana and Steph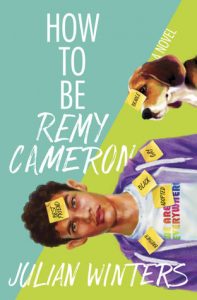 How to Be Remy Cameron by Julian Winters
copy from Netgalley; all opinions are my own
I read and enjoyed Winters' debut, Running With Lions, so I was excited to check out How to Be Remy Cameron. I loved this YA novel. Remy isn't sure who he is – he's gay, black, adopted, a friend, an ex-boyfriend. I liked that Remy is obviously not perfect, but he tries his best. You want to root for him. It's not easy being a teenager, let alone one who came out at 14 and is the only black kid in his white family. Despite not having all the same experiences as Remy did growing up, it was easy to relate to him and I think this is a book that many should read, teen or not.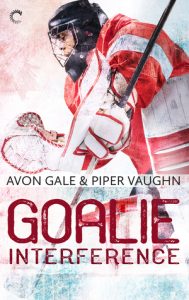 Goalie Interference by Avon Gale & Piper Vaughn
copy from Netgalley; all opinions are my own
Goalie Interference is the second book in the Hat Trick series (the first being Off the Ice). To be honest, I liked Off the Ice a bit more than Goalie Interference, but it's not a bad addition to the series by any means. I do love books about ice hockey – one of the sports that I'll go and enjoy live. Ryu and Emmitt are a lot more alike than they first think, and sometimes I wanted to yell at them to get it together and realize this. They have a big career wrench thrown in their burgeoning relationship and I did feel really bad for the two. I can't imagine it would be easy to date someone when they become your "rival" in a way. Overall, it's a good read. I'd be curious to see if more Hat Trick books will be released.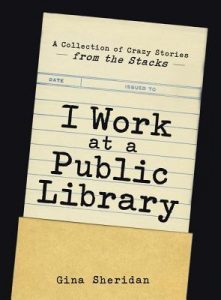 I Work at a Public Library: A Collection of Crazy Stories from the Stacks by Gina Sheridan
personal copy; all opinions are my own
I used to work in a public library and I know people that have, or still do, so I definitely know some crazy public library stories. This is a relatively quick read, though I tried to just read a section or two at a time to make it last. Each section – or chapter – focuses on certain kinds of questions or topics, like technology. There are definitely some interesting and hilarious things that people have done or said in a public library. At the end of the day though, these librarians love their jobs and I like that they shared some heartwarming stories too.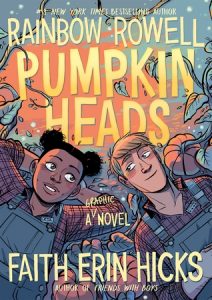 Pumpkinheads written by Rainbow Rowell and illustrated by Faith Erin Hicks
personal copy; all opinions are my own
I really like both Rainbow and Faith, so it was exciting when I heard they were teaming up for a graphic novel. I meant to read this in October, since it's a very Fall book. November still works though, and don't let me stop you from reading it this Winter either. The graphic novel is about two friends who work at a pumpkin patch every year. The whole novel takes place on their last night of work before their Senior Year of high school. Next year they will be in college and no longer working at the patch. At first I thought Josiah and Deja were your typical best friends, but in fact, they are more "seasonal friends." They don't talk or hang out except for when they are working at the pumpkin patch. Regardless, they are still very good friends and I really enjoyed their friendship. This book definitely made me want all the Fall food though!
I also have a longer review of Class Mom by Laurie Gelman. I really enjoyed this one and I need to read the sequel, You've Been Volunteered, ASAP!
In The Comments: Have you read any of these? Have I enticed you to add any to your wish list? Let me know how your November reading went!