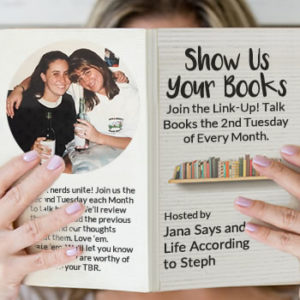 I wrote an emotional post (for me) about saying goodbye to my dog this past week, if you'd like to read it. However, I didn't want to miss out on Show Us Your Books again, so here I am. I have a blog tour post for tomorrow, when Show Us Your Books will be, so I'm a day early. Linking up with Steph and Jana.
I read Eleanor & Park for my YA for Adults book club. I've actually owned this book for years, so it was great finally getting a chance to sit down and read it. Eleanor & Park is the third book I've read by Rainbow Rowell, and it's probably my least favorite. That doesn't mean I didn't like it – because I did – but it was tough for me to root for these two as a couple. I really just wanted them to be best friends and be there for each other. The whole "romance" felt like them trying to save each other in a way, and while they definitely needed some saving (especially Eleanor), I don't want that to be the sole reason for a relationship. Add to Goodreads.
I received Raze from Roan Parrish via Netgalley (all opinions are my own) and I really enjoyed it. This is the third book in the Riven series, and I've really loved them all. Their order is: Riven, Rend, and Raze. I gave Riven and Raze four stars and Rend got five. Raze is about Huey and Felix. If you've read the previous two books, then you will know Huey. He's the sponsor of various famous addicts, and an addict himself. I loved getting to really know him in Raze. It's tough for him to truly open up, and it causes some problems in his relationship with Felix, but nothing overdone or too dramatic. I loved Felix and Huey together, and of course, we get the couples from the previous two books here and there too which is fun! Raze is a romance, yes, but it's more than that too, so check it out! Add to Goodreads.
Spellbound by Allie Therin is another read from Netgalley (again, all thoughts are my own). This one would be a perfect read for the month of October as one of the main characters, Rory, is a psychometric – he can read objects. It's this ability that leads Arthur to him, with a mission to help save New York. One of the things that I loved about this book is that it's set in 1925, so while Rory and Arthur fall for each other, they can't be out, and they have to deal with a lot of other issues that wouldn't have existed if the book was set in today's time. I gave Spellbound 5 stars – it's a magical mystery, with a touch of romance, and some fantastic character building. And guess what? There will be a sequel! Add to Goodreads.
Covet Thy Neighbor by L.A. Witt was given to me for review by Dreamspinner Press (all opinions are my own as always). Seth is a tattoo artist and Darren is a newly transplanted pastor. They are neighbors, and falling for each other. Seth grew up in a deeply religious family that treated him horribly when he came out as gay, so while he likes Darren, learning he's a pastor has him very weary. I didn't absolutely love this book – I think it could have had a bit more character or relationship development – apart from the physical – but I still enjoyed it. One of the things that I loved is the discussion about religion. I thought it was handled really well and it shows that you can be religious without hate. Add to Goodreads.
Relationship Material by Jenya Keefe was another Netgalley read (all opinions are my own) and it's definitely an emotional book. Evan is someone who has been hiding for years – from family, from his past. It's all catching up to him now, and in the midst of that, he meets Mal. I thought these two were really good together. What Evan has had to deal with in the past is heartbreaking and difficult to read at times. It's easy to see why he's skittish about opening up to people. I don't want to spoil anything too much, so all I will say is that Evan and Mal meet because of a specific person, and I thought they were handled well too. Add to Goodreads.
Watching You by Lisa Jewell is from my e-library. I've seen really great things about this book around the blogosphere, including the Show Us Your Books link-up. I will say that the first half of the book was a bit slow for me, and I wasn't entirely sure if I was going to finish or not. Once it starts picking up, I found myself much more invested in this group of neighbors. It doesn't follow just one character, but almost all of them have secrets, which slowly unravel as time goes on. In the end, I gave this one four stars. Add to Goodreads.
Have you read any of these books? Do you want to? Share in the comments!