Trevor Noah and the Ohio State Fair
Sunday, July 29 in Columbus, Ohio
I'd never been to the Ohio State Fair before, which takes place every year in Columbus, Ohio. However, when I saw that comedian and The Daily Show host Trevor Noah was going to be there, I knew I had to get tickets for my sister and me (this was her birthday gift). If you've been reading my blog for awhile now, though, you might remember that my sister had surgery in June. She was okay to go to Columbus and see the show (we figured it wouldn't be as constantly loud as a concert, and we were right), but we did end up staying in a hotel that night as she was exhausted by the end of our day. Instead of diving straight into Trevor Noah, I thought I'd share a little about the Ohio State Fair first.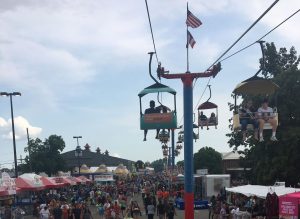 The Ohio State Fair
By buying a ticket to see Trevor Noah, you got access to the fair for that day.
We didn't get to Columbus until later in the afternoon, but that was enough time for us as we don't really do rides, etc. It was fun just to check some of it out before – and after – the show.
One of the first things we did when we entered was ride the SkyGlider, which takes you up over the fair so you can see everything. I'm afraid of heights, but I did okay with this! I just didn't look straight down – instead, I tried to focus on the things I could see before me. It was a fun way to see some of what the fair had to offer.
On the SkyGlider, I saw a building called the Taste of Ohio Cafe. We knew we wanted to get something a bit substantial to eat before chowing down on some of the more fun food options, so once we got off the ride, we headed there. The cafe is broken into "sections" – pork, chicken, etc. and all the food is from Ohio farmers.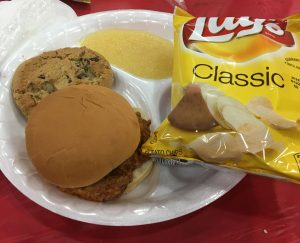 My sister and I went to the pork area and got BBQ pulled pork sandwiches, applesauce, a cookie, and chips all for $8 each. We added a drink and our total was $10. That's pretty awesome for being at a fair!
After we ate, we walked around some and I got a root beer float. My sister got some dippin dots, because she didn't want anything too heavy.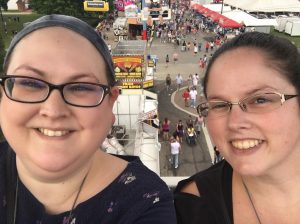 Soon it was time to enter the venue for the show – there are various buildings on the fairgrounds, and Trevor Noah was performing in one, kind of in the middle, so it wasn't hard to get to (read below for more on Trevor Noah).
After the show, the fair was still open, so we got on the SkyGlider again and headed back toward where we had entered. It was really fun to be on it at night with everything all lit up.
We didn't leave right away after getting off the SkyGlider. Instead, I got a funnel cake and my sister got a hot dog.
On our way into the fair earlier that day, we had seen tractor "rides" that were dropping people off and picking them up, so when we left, we went over to the tractors and told them where we were parked (it was based on colors) and they told us which tractor ride to take. This is definitely a wonderful service! Our tractor ride actually ended up dropping us off right by my sister's car – that was coincidence- but you'll definitely get pretty close to where you parked and it's much easier than walking (especially at night, and if you've been standing all day, you're probably exhausted!)
This was the first time my sister and I had been to the Ohio State Fair (we've been to the Kentucky State Fair) but we'd definitely go again. Obviously there is a lot more to see and do, but we didn't go for a long time. Granted, I really enjoyed what we did do and see, and I think having a show to attend makes it even more fun.
Trevor Noah
Trevor Noah is the host of The Daily Show; he took over after Jon Stewart. He's also a comedian. My sister is a big fan, so I bought us tickets to see him live for her birthday.
Our seats were really great – we were essentially right in front of the stage – just further back. It gave us a great view! There were screens throughout the place though, so you could look at that if you wanted a closer-view of Noah.
There was an opening act, though I can't remember his name (I'm bad with names). He was funny though – he talked to the audience a lot.
After the opening act, Trevor Noah came on stage and he began by making some jokes about fairs in general.
One such fair joke was about how it's only at fairs that guys will carry around large stuffed animals with such pride. Like "Yeah, I won this." He said even on Valentine's Day, the guy will practically throw the stuffed animal at the girl like "here, take this, I bought this for you" but at a fair, they carry it around with pride!
While The Daily Show often gets political, not all of Trevor's stand-up focused on that. He actually talked a lot about growing up in South Africa and his mom, who sounds amazing. It just made me more determined to read his memoir, Born a Crime, as soon as I can.
He did tell a story about being able to visit the White House and interview Barack Obama near the end of his term. The funny part is after the interview, Obama hangs out a bit and just talks to Trevor. Then he asks if Trevor would be willing to come back and be part of a dinner for Obama's aids. Now, Trevor immediately thinks AIDS, as in capital-A AIDS, so he thinks Obama is telling him he has AIDS and he's doing a dinner/benefit for it. Of course, Obama means the White House aids – people that worked for the White House and he wants to do something for them before he leaves. Hah! It was too funny, and of course, Trevor telling the joke makes it funnier.
I would definitely recommend seeing Trevor Noah live if you ever get the chance! It was worth the trip for sure!
Review of the 2018 Ohio State Fair + Trevor Noah Live #ontheblog #trevornoah #ohiostatefair2018
Click To Tweet