Paperless Post gave me the opportunity to try out their online invitations, and so I'm here today to share my honest thoughts! First off though, you should know that Paperless Post also allows you to create flyers, cards, and more on their website, and for various occasions from birthdays to weddings to baby showers and much more. It's a really fun site! 
I'm part of a group called Geek Girl Brunch – be sure to search if there is a group in your area – and I'm one of the officers in charge, which means I need to create invites for the events we do. The next one will be in November, and I thought using Paperless Post would be the perfect way to create fun invites for our next get together, which is a Friendsgiving Brunch in honor of the upcoming Thanksgiving holiday.
One of the first options I had was to figure out which invitation design I wanted. Luckily, Paperless Post has a whole section just for brunch, so I went with the above because I thought it was really fun, and it just screams brunch to me!
Once you have the actual invitation design, it's time to edit the card and fill out just who is hosting the event and where it will take place-
As you can see, I let everyone know the invitation was from Geek Girl Brunch and that we were going to be having a Friendsgiving Brucnh. Underneath, I have the date of the brunch, as well as the name and address of the restaurant where we'll be meeting. It's easy to edit, so you shouldn't have any difficulty creating your very own Paperless Post invitation.
Now that you have the invitation finished, it's time to decorate the envelope. I chose this really fun metallic color for the actual envelope, and I even went with the colorful confetti for the inside liner. You can choose your own stamp and change the font for the invitee's name on the front of the envelope as well. Paperless Post definitely gives you a lot of fun opportunities to make these invitations truly fit your personality and/or event.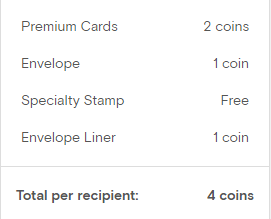 The above image shows you the break down of the "prices" for my invitations. I put prices in quotes, because as you can see, everything shows up as coins on Paperless Post. I'll explain how the coins add up in a moment, but basically, a certain amount of money equals a certain amount of coins…and each time you edit your invite/envelope, you will probably have to put coins toward it (and this is equal to every person you invite as well). So, my invites were 2 coins, the envelope was 1 coin, the stamp was free, and the envelope liner was 1 coin…that's only 4 coins, but it's four coins for EACH person you email the invitation to, so keep that in mind when customizing!
Finally, here is how the price/coins work out when using Paperless Post. Basically, you get 10 coins for $5, 25 coins for $10, and on and on. I was given a certain amount of coins to test out the site, but I really do like the idea behind Paperless Post, and I think my invitations turned out really well. I think making cards would be fun too – and you can always add personal photos as well, so it might be an easier, cheaper way to do holiday cards!
Paperless Post: Create online invitations, cards, and more - cheap, easy way to prepare for the holidays! #paperlesspost #ontheblog
Click To Tweet
Tell me: Would you use Paperless Post? If so, what would you make – cards, invites, etc.? Fill me in!