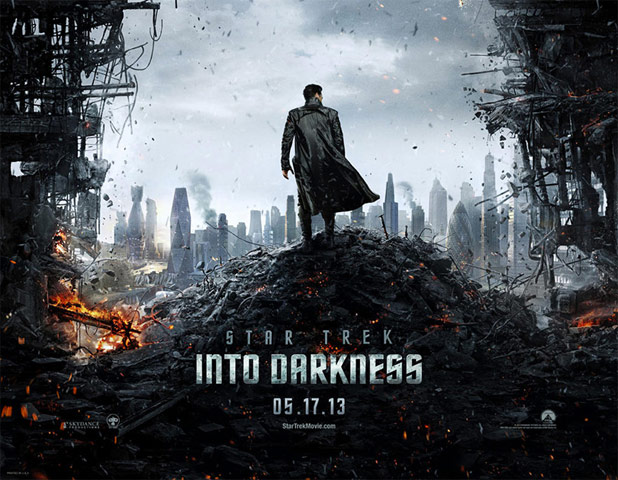 do not own – promo use only
Star Trek: Into Darkness

Review by Lauren

IMDB Summary: After the crew of the Enterprise find an unstoppable force of terror from within their own organization, Captain Kirk leads a manhunt to a war-zone world to capture a one man weapon of mass destruction.
Review: First off, I linked to IMDB above because that's where I take the mini summary from when reviewing movies; however, I will warn you that you might not want to visit the website until after you see the movie or things could be ruined for you (at least one thing is obviously on the front page, which I personally think is a bit dumb). Beyond that, I have to say that I loved Star Trek: Into Darkness. I'm not a big Star Trek fan…I know basic facts about it, and I actually saw the first Star Trek on Friday right before going to see the sequel. While I did enjoy the first film, I think Into Darkness far surpasses it.
The main reason I found Into Darkness more enjoyable is the villain. I'm already a Benedict Cumberbatch fan (he plays Sherlock in the BBC Sherlock, by the way) so I was excited to see him in something different…but he does an amazing job. It's easy to believe that he is a evil master-mind, hell-bent on getting what he wants with no care for who he hurts in the process. It's some wonderful acting, I must say!
not mine
For those that enjoy a bit of humor in their non-comedy films (like myself), don't worry. Chris Pine (as Captain Kirk) brings most of the laughs, especially with dealing with Spock (Zachary Quinto). You also get some more girl-power in this one with Zoe Saldana back as Uhura, but also a new character named Carol (Alice Eve). It's always nice to see the ladies kicking butt and sticking up for themselves. The Star Trek crew work together; there are no weak links in this bunch. They are all needed for their respective jobs in order to be victorious.
In the end, this was a fun film that doesn't leave out character development, so it's sure to please many. Definitely a nice way to start the Summer Blockbuster Season!