On Saturday, June 1, I treated my dad to an early Father's Day gift and brought him to see Rob Lowe at the Aronoff Center for the Arts in Cincinnati, OH. Based around Rob Lowe's memoirs, he decided to create a live show titled Stories I Only Tell My Friends (the name of his first memoir) and share it across the country. One of my absolute favorite books and movies is The Outsiders, and in that book, I love Sodapop Curtis, who Rob Lowe plays. I knew my dad was also a fan of Lowe's, so it seemed like the perfect outing!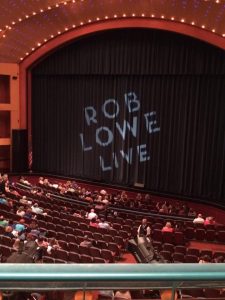 I suppose because the show wasn't sold out, the Aronoff allowed people that were higher up to move their seats forward. My dad and I were shown a map of seats available and we chose the ones we wanted. We decided to stay in the first balcony, instead of the bottom floor, because we'd be above the stage and able to see everything.
The show started on time, which is always nice, and it began with a collection of clips and photos from Rob Lowe's career. This was really cool – and they even showed a scene from The Outsiders! Once this was over, Rob himself came out and began the show. He's really fun and personable and you could tell that he's grateful for everything he's been given in his life and he doesn't take himself too seriously.
If you know Cincinnati, then you've probably heard of three-ways, as in the food. Rob began his show by apologizing that he had some indigestion…he joked that he had Skyline chili before the show and it was the first time he'd had a three-way before a show.
He also seemed fascinated by Emilio Estevez (another member of the 80's Brat Pack) being around Cincinnati so much. He was like "Is Emilio mayor of Cincinnati now? Is there an election I missed?" If you don't know, Emilio Estevez is a big fan of Cincinnati and he even filmed a movie here called The Public, which takes place mostly at the Cincinnati Public Library (which I still need to watch!) Rob said at the end of the show that he'd have a Q&A and he wanted more information about Emilio! During that time, someone in the audience said he had a condo in Cincinnati and Rob's like, "Where is it? I need an address!" It was funny! He also mentioned at one point that Charlie Sheen is the biggest Cincinnati Red's fan of all time (which is probably true hah). FYI: Charlie Sheen is brother's with Emilio Estevez; Sheen just took his dad's acting name (their dad is Martin Sheen).
Rob told stories about when he was a kid, about becoming famous, various movies and TV shows he was on. It was funny because his dad was actually in the audience (Rob is from Dayton, Ohio, which is about an hour from Cincinnati). He asked if anyone in the audience was married, and people raised their hands, and then he asked if anyone wanted a divorce, and pointed at his dad, because his dad is a lawyer. Rob mentioned his dad a few times throughout the show when telling particular stories.
This was definitely a really fun show, and it was great learning more about Rob Lowe. I've wanted to read his memoirs for awhile now, so I need to finally get on that. I'd definitely recommend checking out the show if it comes near you and you're a fan of Rob Lowe!