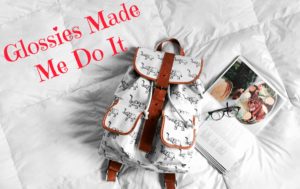 It's August 2017 with Glossies Made Me Do It. To take part, take a magazine (new or old) and find something that that glossy makes you want to do! Read a book? See a movie? Make a recipe? Let us know! I'm linking up, as usual, with Erika at Cat Eyes and Skinny Jeans and Ashley from Happy.Pretty.Sweet. There will be a link up below, which is open for two weeks, so please link up with us! If you can't do it this month, then come back next month! We post these on the first Friday of every month and we'd love to have you!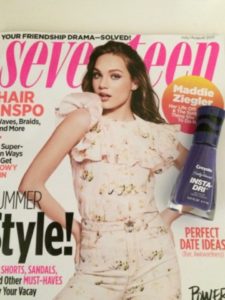 This month I used the July/August 2017 issue of Seventeen magazine. They always have so many fun product ideas! I knew the one that I needed to check out was the Sally Hansen Insta-Dri nail polish collaboration with Crayola. Yes, there is nail polish that is designed to look a bit like a Crayola product and the colors match crayons. There about 12 colors but I went with purple because it's my favorite color. It was a difficult choice though!
Glossies Made Me Do It: Crayola Nail Polish? Yes Please! #ontheblog
Click To Tweet
I saw this nail polish featured under the What's How Now section! It says it's available at Walgreens but I couldn't find it at my local store. Therefore, I ordered it from Target instead. They have all the colors so this is a great place to go check it out. I'll have to check my physical Target to see if they have these in stock. I need more colors! If you're interested in purchasing online, think about signing up for Ebates (my affiliate link is here) and you can get money back by shopping at Target and many other online ships! Such a great deal.
This is seriously an amazing polish. I only used one coat and it looked great – plus, it goes on easy and it really does dry quick. I need more now!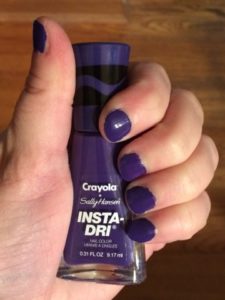 Here's a final look at my nails! Isn't it a cute color? I think it works for summer, but it's also a really nice color to have on hand for the fall. Since there are many other colors available, you're sure to find something you'd love!
What do you think? Would you buy this polish? Isn't the Crayola collaboration such fun?
Link up with us! 
Want to read more? Check out my other post today! Yes, I double booked myself. Whoops!