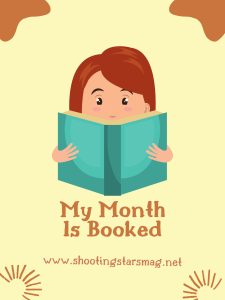 It's time for another My Month is Booked. And yes, it's been almost a month since I've done a blog post. I have GOT to get better at scheduling ahead. But here are some quick, mini book reviews of things I've read recently. Please link up below if you have your own wrap-ups to share.
My Month is Booked: September 2023
Cultish: The Language of Fanaticism by Amanda Montell
I posted a full review for this already, and you can find that here. 

The Only One Left by Riley Sager 
I still need to read Sager's first three books but I've read the rest of his work and I think this is my new favorite after Home Before Dark. 🏠
Are there a lot of twists and reveals in the end? Yes
Do I think it was too much? No
I loved it all!!!
View this post on Instagram
Destination Truth: Memoirs of a Monster Hunter by Josh Gates is a book I actually read and annotated for my sister. She's been a fan of Josh for awhile, but I am a newer fan and it was great learning about how he became TV famous. 📺
This book focuses on Josh's first TV hosting gig- Destination Truth. This show took them around the world where they investigated tales of creatures like a giant snake, a Yeti, and more. 🐍
This was a quick, interesting read. I would love a more recent memoir from Josh! 📕 He's a good storyteller and it definitely made me want to go back and watch that show.
View this post on Instagram
Our Vengeful Souls by Kristi McManus  
Our Vengeful Souls is the origin story of Ursula from The Little Mermaid, though she doesn't go by that name in the book. I loved reading about this fierce mermaid, seeing what she went through to make her the Sea Witch we all know and love/hate. 🧜‍♀️
This was a quick, interesting read!
Our Vengeful Souls serves up sibling rivalry, first loves, shipwrecks, heartaches, sword fights, and more. ⚔️ Dive in today!!
View this post on Instagram
I will have more book reviews and other posts to come! Please link up below!!!
You are invited to the Inlinkz link party!