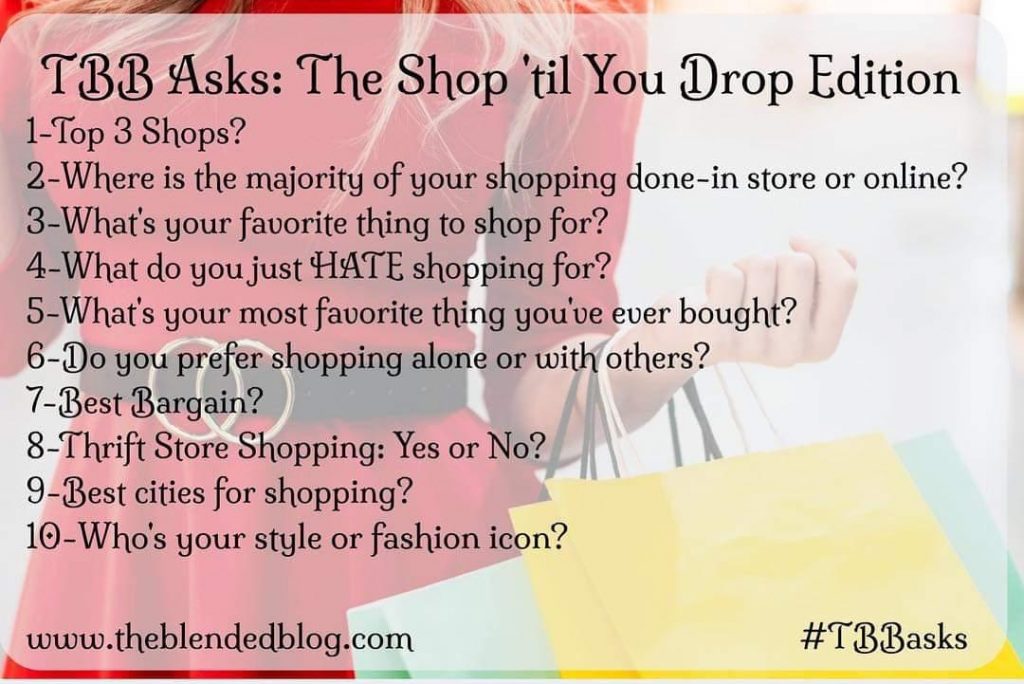 I'm late, I'm late! However, I still wanted to link up with The Blended Blog today for their TBB Asks: Shop 'til You Drop Edition! I'm really not the biggest shopper, so we'll see what I come up with!
Target, Old Navy, and Torrid – if we're talking about clothes.
I pretty much exclusively shop for clothes in stores so I can try things on, but I like ordering things online a lot too for good deals.
Books for sure!!
Hmm…I'm not always the biggest fan of shopping for clothes, but I don't hate it. Maybe swim suits? That can be annoying. haha
Oh gosh, I don't know. I paid for my vacation to London, England, and that whole thing was amazing.
I don't really mind either way, but I don't like shopping with too many people.
I love finding online deals, and using Ebates is always a great thing because you get money back (use my affiliate link to sign up if you haven't already!)
I like the idea of thrift store shopping but I haven't really been to one in forever.
I think Cincinnati is pretty awesome, but any city I visit can be fun to shop around a bit.
I don't really have one! I like people that are true to themselves though. Personally, I'm all about comfort. I've gotten more into fashion as I lost weight though, as I'm able to wear more of what I like, and that's a blessing.
Feel free to answer any of these in the comments below! Do we have anything in common?
TBB Asks: Shop 'til You Drop edition #ontheblog #tbbasks
Click To Tweet