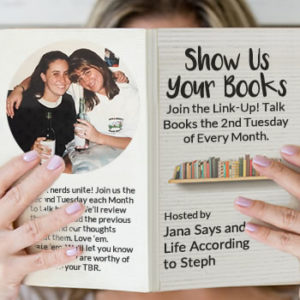 Show Us Your Books is hosted by Steph and Jana! 
Let's look back at the books I read in the past month (or at least finally shared in the past month).
This post contains affiliate links; I get a small % of any sale at no extra cost to you! 
Best Laid Plaids by Ella Stainton
copy from Netgalley; all opinions are my own
Official Summary: Dr. Ainsley Graham is cultivating a reputation as an eccentric.
Two years ago, he catastrophically ended his academic career by publicly claiming to talk to ghosts. When Joachim Cockburn, a WWI veteran studying the power of delusional thinking, arrives at his door, Ainsley quickly catalogues him as yet another tiresome Englishman determined to mock his life's work.
But Joachim is tenacious and openhearted, and Ainsley's intrigued despite himself. He agrees to motor his handsome new friend around to Scotland's most unmistakable hauntings. If he can convince Joachim, Ainsley might be able to win back his good name and then some. He knows he's not crazy—he just needs someone else to know it, too.
Review: Best Laid Plaids is a pretty solid 3-star read for me. I didn't love it, but it wasn't bad. It's actually the first in a new series called Kilty Pleasures, and I definitely want to read the second book. I think now that things have been established between Ainsley and Joachim, the second book will be even more intriguing. One of the complaints I had for Best Laid Plaids is that I wanted more of the ghosts and the supernatural, and the book kept wanting to give me sex scenes instead. I think it needed a better balance of the two.
However, I did enjoy both main characters – as well as some of the secondary characters! I can't wait to get to know Joachim's sister better – I hope we do in the second book. I love that the book is set in 1920's Scotland, and the cover actually matches the character of Ainsley, so that's wonderful! The ghosts and supernatural elements that were included were really interesting and I loved getting both POV's on this "new world" if you will.

Swipe Right for Murder by Derek Milman
personal copy; all opinions are my own
Official Summary: On the run from the FBI.
Targeted by a murderous cult.
Labeled a cyber-terrorist by the media.
Irritated texts from his best friend.
Eye contact with a nice-looking guy on the train.
Aidan has a lot to deal with, and he's not quite sure which takes top priority.
Finding himself alone in a posh New York City hotel room for the night, Aidan does what any red-blooded seventeen-year-old would do—he tries to hook up with someone new. But that lapse in judgement leads to him waking up next to a dead guy, which sparks an epic case of mistaken identity that puts Aidan on the run from everyone—faceless federal agents, his eccentric family, and, naturally, a cyber-terrorist group who will stop at nothing to find him.
Review: Oh, October. The month where it makes sense to read all the mysteries and thrillers. I'm so glad I finally found some time to read Swipe Right for Murder. Aidan is in New York, meeting up with some friends, and then seeing his family the next day. However, it doesn't take long for all of Aidan's plans to go out the window when he wakes up to a dead guy that he'd hooked up with the night before.
Aidan is still a teenager, but he definitely feels older in some ways. It makes sense once you realize all that he's gone through and how he currently lives his life (he goes to a boarding school, so he's quite independent). There is a lot in Aidan's past that just made me want to hug him and never let go. I wasn't a huge fan of his parents, though they are quite amusing in parts. I loved Aidan's sister though – she's kooky, but she wants to be there for him. His family isn't in the book a ton; we get more page time with his friends, who are also fantastic.
Despite this, Aidan really is alone in a lot of ways. People think he's a cyber terrorist, a murderer. He's on the run through New York City, trying not to be killed. He meets people that he should be able to trust, but can he? It's a lot, but I loved every second of it. It's a pretty fast-paced thriller and I was rooting for Aidan the whole time, even as I got to know him better and saw his sides that aren't so heroic or perfect. Aidan is flawed, in many ways, but he's a fully-realized character and I think readers will fall in love with him like I did.
Now it's time for some book reviews I've already shared (in case you missed them)!
Live in Love: Growing Together Through Life's Changes by Lauren Akins and Mark Dagostino
If you listen to country music – and maybe even if you don't – then you've probably heard something by Thomas Rhett. I'm a fan of his music, so I was really excited to see that his wife, Lauren Akins, was releasing a memoir. I didn't know a lot about Lauren going into the book – minus the fact that her and Thomas had adopted a baby from Uganda and were the parents to a total of three girls (she found out she was pregnant with their third girl while working on the book). Despite this, I was curious to learn more about Lauren and her story.
Read my Full Review
Fact or Fiction: The Heroin Diaries + Heroine
View this post on Instagram
(FACT) The Heroin Diaries: A Year in the Life of a Shattered Rock Star by Nikki Sixx and Ian Gittins
What I loved about this book is that it's actually the diaries of Nikki Sixx. He kept them throughout this entire year and it's easy to see him slowly losing it. He stops drugs, and then he starts up again. He's paranoid and yet he knows, in the end, it's the drugs that are affecting him and he needs to stop. Instead of just being a straightforward diary, Sixx adds in his commentary (as well as the commentary from band managers, security, band members, etc.) and it gives a years-later added perspective, which really makes the book.
Read my Full Review 
Purchase The Heroin Diaries
(FICTION) Heroine by Mindy McGinnis
I could understand Mickey's reasoning for taking the Oxy long after she should have been. She tells herself that it's just to get through the rest of softball and then she'll wean herself off. She tells herself that she was prescribed Oxy in the first place, even if she's no longer getting it from the doctor. It helps her, and she's soon playing again. It's not perfect, but it's working. This soon leads to heroin, as opioid abuse often does.
Read my Full Review
Purchase Heroine 
Confessions on the 7:45 by Lisa Unger
At first, I thought the various POV's were going to be confusing, but it didn't take long to get adjusted. Plus, once things started to come together more, it all made sense, and you realize that the POV's are all needed. I guessed some of the connections and secrets as I read, but I didn't figure out the entire mystery and I love that. It's fun to guess correctly here and there, but a good mystery keeps you reading and wondering and still surprises you.
Read my Full Review
3 Reasons to Read the Jasper Dent Trilogy by Barry Lyga
To find out my three reasons, and to purchase copies of the books, visit my original post!
View this post on Instagram
The Phantom Twin by Lisa Brown 
I love graphic novels and The Phantom Twin was definitely a unique one. Isabel and Jane are conjoined twins – though due to the time period, they are often referred to with the outdated term Siamese Twins- and they have an act in a traveling freak show. The two share an arm and a leg, though Isabel doesn't have much control of them. In fact, most of her life seems to be controlled by Jane. Now, Jane isn't a bad person – she's just more outgoing and daring, and she desperately wants a life separate from her sister (at least, literally separated). When she meets a doctor who says he can separate them, Isabel is talked into the surgery by Jane, and the two go under the knife. Unfortunately, only Isabel survives…with a ghostly Jane attached to her side (who comes and goes as she wishes).
Read my Full Review
Purchase The Phantom Twin
The Invisible Boy by Alyssa Hollingsworth
This middle grade novel tackles a really big, serious, topic, but it does it in a way that younger readers can understand. That topic? Child labor trafficking.
Nadia loves superhero comics, and she wants to be an investigative reporter like Lois Lane someday. The big story in her neighborhood is a boy who rescues her dog and then disappears. She dubs him The Invisible Boy. As the book progresses, and Nadia actually befriends this boy, she realizes that maybe he isn't a superhero…but there's still a story surrounding him.
Read my Full Review
Thanks for reading – have you read any of these? Do you want to? 
Before you go, don't forget the following giveaways: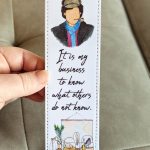 A Fine Quotation Vegan Leather Bookmark (U.S.) or $5 PayPal (International) – Giveaway ends on October 20 (this is also a giveaway hop so you have a lot of other prizes to possibly win too!)
Modern Spooky Prize Pack (U.S.) – Giveaway ends on October 15 (again, this is a giveaway hop!)
A copy of Man Up by Kim Oclon (U.S.) in honor of Solidarity Week – Giveaway ends on October 16, and it's over on Instagram.