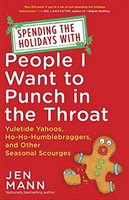 Spending the Holidays With People I Want to Punch in the Throat by Jen Mann


Review by Lauren


source: copy from Netgalley; all opinions are my own


Official summary: In this hilariously irreverent collection of essays, Jen Mann, nationally bestselling author of People I Want to Punch in the Throat,
turns her mordant wit on the holidays. On Mann's naughty list: mothers
who go way overboard with their Elf on the Shelf, overzealous carolers
who can't take a hint, and people who write their Christmas cards in the
third person ("Joyce is enjoying Bunko. Yeah, Joyce, we know you
wrote this letter."). And on her nice list . . . well, she's working on
that one. Here, no celebration is off-limits. The essays include:
• You Can Keep Your Cookies, I'm Just Here for the Booze
• Nice Halloween Costume. Was Skank Sold Out?
• Why You Won't Be Invited to Our Chinese New Year Party
From
hosting an ill-fated Chinese New Year party, to receiving horrible
gifts from her husband on Mother's Day, to reluctantly telling her son
the truth about the Easter Bunny, Mann knows the challenge of navigating
the holidays while keeping her sanity intact. And even if she can't get
out of attending another Christmas cookie exchange, at least she can
try again next year.
Review: First off, Happy Thanksgiving to all of my Canadian readers! Now, let's talk about this hilarious collection of essays. I have not read Mann's People I Want to Punch in the Throat, but after reading her take on the holidays, I know I need to check out her debut book.
This book focuses mostly on stories about Christmas, but there are a few other holidays that are included as well. However, I really love the Christmas season so it was fun to hear about Mann's experiences dealing with the holiday. Her mom is obsessed with the holiday and loves to decorate every inch of her house. Mann's little girl is following in her grandma's footsteps. For Mann though, she likes aspects of Christmas, but finds most of it a bit over the top.
I loved her story about Cookie Exchange parties and how she doesn't like most of the food but feels weird skipping over everyone's treats. Plus, the idea is that you'll be making a ton of cookies anyway, so why not make a ton of one cookie and come back with a lot more? Mann points out that she wouldn't make so many cookies if not for the parties, so it really defeats the purpose!
There is also a really funny story about the crazy costumes that people wear for Halloween and how many people go quite skanky these days. She talks about a friend party that included children and how one couple came as something sexual (I won't ruin the surprise), but for the children that were old enough to understand, it was highly inappropriate!
In all, I would definitely recommend this one! It really does make you laugh out loud and you're sure to want to share the stories as you go, like I did!