Happy Monday, everyone! Today I have my last official Stocking Stuffer gift guide post.
I hope you've been enjoying all of them – if you bought something from any of the shops, let me know!! I'd love to hear.
Please pin the below image to help me spread the word!
Azpines – nature creations; re-purposed items
Laura from Azpines has a fun collection of items that would make perfect stocking stuffers or little gifts. I wanted to use this post to feature some of them – including some tidbits from Laura herself (all of her comments will be in bold).
I mostly just sell locally and besides this year, I sell at craft shows. I'm newly retired this year from being a librarian, I got prematurely force out, I guess school libraries aren't pertinent anymore :(!
I sell lots more than what is featured on etsy, I make crochet washcloths, scrubbies and baby blankets. I also sew quilts and I LOVE repurposing jeans and other items. Visit my facebook page: www.facebook.com/azpines there are tons of photos!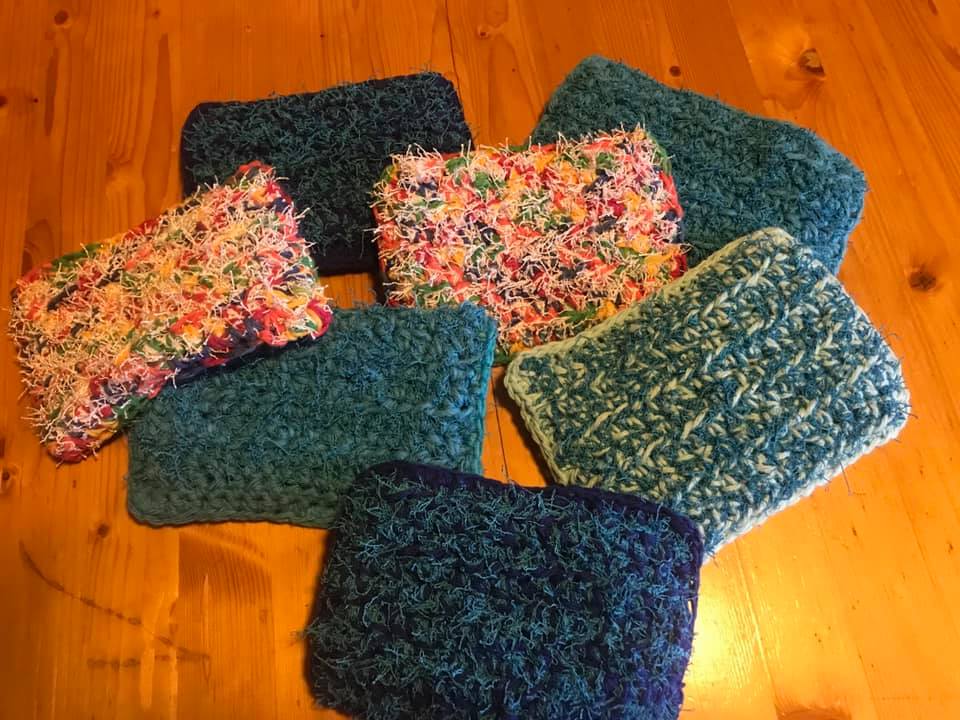 So many of these Etsy shops are just regular people creating things they love and selling them at craft shows or local markets. Because of Covid, most craft shows were cancelled this year, which makes it even more pertinent that people continue to shop places like Etsy. Remember – these are small businesses too!!
I used to make these accordion files from old books. I still make custom ones. They are labor intensive but so cute!
How adorable are these accordion files? I love when people re-purpose old books into fun, new items. These aren't listed on Etsy, but Laura says she makes custom ones, so if you are interested – message her on Etsy or Facebook!!
Back on Etsy, I wanted to make sure to feature a few of the products that Laura also offers that definitely make great stocking stuffers.
Laura makes these beautiful wax sachets. She personally picks the flowers and places them in the wax, so it's most definitely handmade all around. You can put these in the closet to help your clothes smell fresh, or hang them around the house. Just avoid direct sunlight or the wax might start melting! Scents include: Rose, Wild Flowers, and Lavender.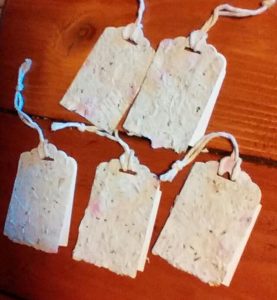 I do enjoy paper crafts and the seed paper (of which the seeds are harvested from the wax sachets flowers). Adults and children alike love the fact that the paper can be planted after use to plant flowers.
The Seed Paper Gift Tags have a white tag attached to the other side so you can use that for writing out the To and From. These come in a set of 5!
My altoid tin mini notes are so cute and a popular item also! I use scraps of origami paper and each envelope is hand folded and glued and placed in an altoid that is decorated with washi tape. Such an adorable little stocking stuffer!
Aren't these just the cutest little gift? I love how much detail Laura puts into it, from decorating the outside to making the little envelopes. Each altoid tin comes with 6 envelopes, 6 pieces of paper, and a small pencil. It's completely ready to be put in a stocking or gifted to a loved one! If you buy a tin for someone, and need more envelopes/paper, just message Laura and she can sell you a refill!
And because so many of my readers are well…readers…I have to show two of the items that Laura sells that are perfect for bookworms!
This is a Library Card Notebook! From the Etsy Shop:
Repurposed vintage library cards made into little booklets! There are 20 pages in each bound booklet with regular paper. The booklets made with due date slips have 10 pages. The pages are lined, perfect for notes or book lists.
How cute are these? I love that there are a couple options, depending on how authentic you want things to look or how many pages you need. As someone who has a Masters Degree in Library Science, I would be thrilled to discover this in my stocking!
Finally, there are these plantable bookmarks! From the Etsy Shop:
PLANT A SEED, READ! These bookmarks are made from recycled book pages and has an assortment of wild flower seeds embedded.
Great addition to a book, either use it as a bookmark or plant and water it.
Okay, these are so fun! Each bookmark is only $2, with free U.S. shipping, so these would be the perfect thing to give friends or put in more than one stocking. Plus, you can always do as Laura says on Etsy and gift it along with a book the recipient wants!
***
I hope you enjoyed learning more about Laura and azpines. Be sure to message her directly if you have any questions or you would like her to make one of the items from her Facebook page!
Remember, let me know if you bought anything (from here or any other company I featured!)