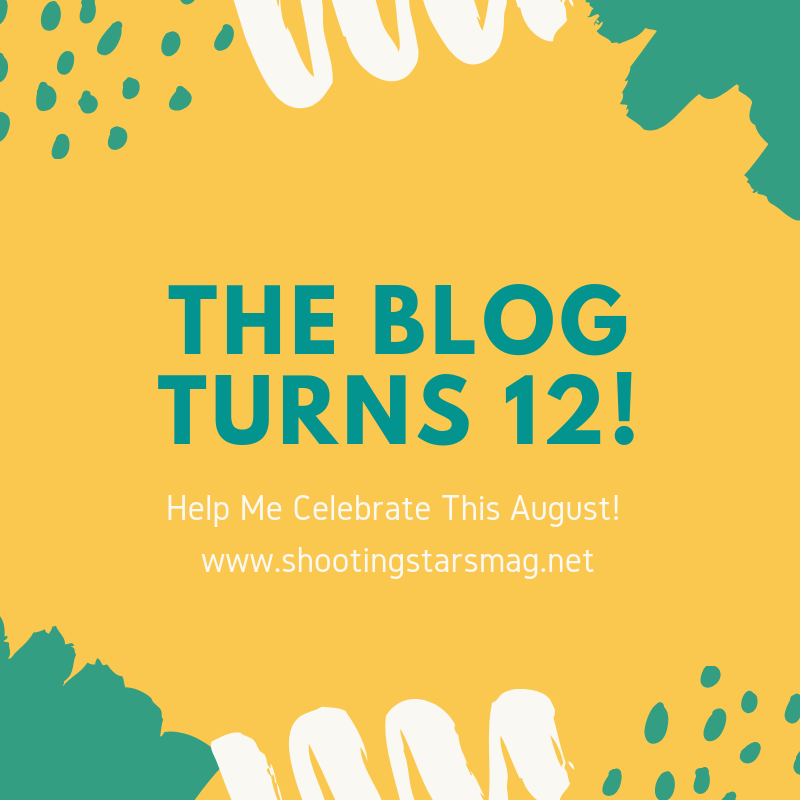 This August, my blog, Shooting Stars Mag, turns 12. In honor of that huge blogoversary, I'd really like to do a big blog-wide celebration. This might start in August, but it might also start in July to give me more time.
Basically, I'd like to work with at least 12 other blogs this summer. The actual post will be something we can work out between us, but I'd love to have a giveaway for each blog (or two blogs can host one giveaway, etc.). There might end up being 12 giveaways – but it could be less if more than one blog wants to work together.
I'm happy to have the blogs I work with donate toward the giveaway, but I can also sponsor them myself. I don't mind either way.
For now, I need to know what blogs out there would like to work with me on a Blogoversary Giveaway post! You're welcome to share giveaway ideas in the comments below too: what type of giveaways do you want to see, what type of giveaway would you want to co-host, etc.?
This August, Shooting Stars Mag, turns 12! Help me celebrate: co-host a giveaway or let me know what you'd want to win #ontheblog
Click To Tweet
Giveaway ideas (feel free to let me know if any of these sound good in the comments):
Paypal/Cash giveaway
Gift Card
Book of Choice
Favorite Things prize pack
Make it A Gift: a book and an item that fits the book
C.D. or Movie
I'd really love to start planning now -especially if the prize is something I can purchase beforehand! Just let me know if you'd like to help me out; the giveaway will be hosted on your blog, but I'll help promote it. Be sure to share what type of prizes you'd like to see too!
Thanks everyone – I can't believe it's almost been 12 years, but I love it, so I'm not going anywhere anytime soon!