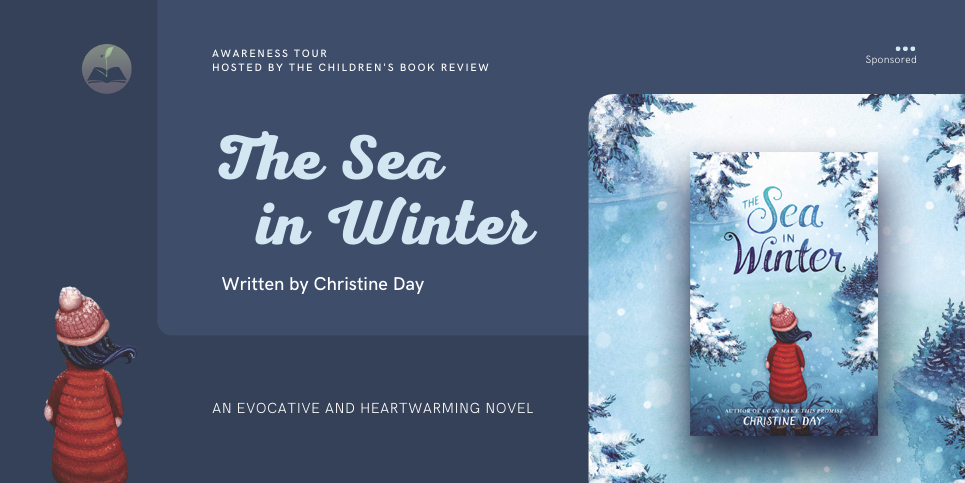 Welcome to my stop for The Sea in Winter blog tour! This is a compensated post by The Children's Book Review and HarperCollins Publishers, but as always, my opinions are completely my own.

The Sea in Winter by Christine Day 
Review by Lauren
affiliate link; any purchase benefits me a small % at no extra cost to you
Official Summary: It's been a hard year for Maisie Cannon, ever since she hurt her leg and could not keep up with her ballet training and auditions.
Her blended family is loving and supportive, but Maisie knows that they just can't understand how hopeless she feels. With everything she's dealing with, Maisie is not excited for their family midwinter road trip along the coast, near the Makah community where her mother grew up.
But soon, Maisie's anxieties and dark moods start to hurt as much as the pain in her knee. How can she keep pretending to be strong when on the inside she feels as roiling and cold as the ocean?
Review:  The Sea in Winter is a beautifully written middle grade novel. I actually read the entire book in a day, and I will admit it had me tearing up in parts. It's an emotional book but one that I think many should read, especially those in the target age group of 8-12 years old.
Reasons I Enjoyed The Sea in Winter:
Family plays a large role in the book; Maisie has her mom, her stepdad, and her little brother, who are all very much there for her. I think the author did a good job at showing how family can be supportive, but that it's not always easy to open up and connect.
Maisie is dealing with an injury which has taken her away from ballet. I really felt the sadness and anger that Maisie had at not being able to do something that made up so much of her life (for example – her only friends came from ballet school). I loved seeing Maisie's emotions throughout the book; it all felt realistic.
We Need Diverse Books – this book is about a young Native American girl, and the history of her parents' (and stepfathers') communities were an important aspect of the book. I love this, both for other Native American children to see themselves in these pages, and for non-Native children to learn more about these communities. This is also an OwnVoices novel – aka the author is Native American too.
How mental health is dealt with. Maisie is dealing with anxiety and depression throughout the book, though she doesn't have the words for how she feels. I think mental health was handled really well and it showed that therapy and opening up is often important to healing and getting through the things that life throws at us.
Overall, I loved the themes of community, of family, of finding passion in more than one thing.
Interested in the book? Check out the tour wide giveaway!!
Enter for a chance to win a set of two books by Christine Day, including The Sea in Winter.
One (1) grand prize winner receives:
A hardcover copy of The Sea in Winter by Christine Day
A hardcover copy of I Can Make This Promise by Christine Day
Four (4) winners receive:
A hardcover copy of The Sea in Winter by Christine Day
The giveaway begins January 5, 2021, at 12:01 A.M. MT and ends February 5, 2021, at 11:59 P.M. MT.