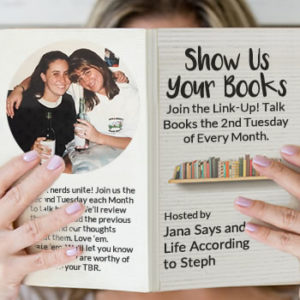 Time for Show Us Your Books with Jana and Steph! I'm an affiliate with Bookshop. If you purchase from any of my links, I get a small % at no extra cost to you. Also, Bookshop partners with Independent Bookstores so you're helping the little guys by buying as well! Win-Win!!!

Teddy Spenser Isn't Looking for Love by Kim Fielding
source: copy from Netgalley; all opinions are my own
Review:  This was a really cute read! It's kind of enemies to friends to lovers, though enemies is a pretty strong word. Really, Teddy and Romeo work together but they both have wrong impressions of the other. When they are pushed together on a work project, spending all that time together makes them realize they actually like each other a lot. There's a woman who might invest in the company they work for and she puts Teddy and Romeo through a few tests before she agrees or not. Yeah…it's kind of messed up. If this was real life, I would hope that nobody would do that to a person. It's a great way for the two to get closer in the book though. This is a relatively low-heat romance too, if that's more your speed!

The Mysterious Affair at Styles by Agatha Christie
source: library copy; all opinions are my own
Review:  I'm doing the #readchristie2021 where you read a different Agatha Christie novel every month based on various prompts. In January, I read The Mysterious Affair at Styles with an Instagram group. It's the first Hercule Poirot novel, whom I love and I'd never read it, so that was fun. It was a good mystery overall, though it was definitely not my favorite. You can tell that Christie gets better as time goes on. At any rate, I've been wanting to read more Christie so this challenge is great for that. I'd recommend if you want to be introduced to Poirot or just want some early Christie in your life.

The Memory Illusion: Remembering, Forgetting, and the Science of False Memory by Julia Shaw
source: personal copy; all opinions are my own
Review: This was the choice for my book club in January. It's something you don't necessarily fly through, but it's definitely a fascinating book. In case you couldn't tell – it's nonfiction and it's all about our memories and how they really aren't that great. It was eye-opening, but it was also a little scary. People can be given false memories – even some slightly traumatic ones. Eyewitness testimony isn't great – and people have a difficult time telling the difference between people of a different race. Basically, the whole white people think all black people look the same. It's true for other races too though – not just white people. Kind of scary when you think about the justice system, isn't it?
The Memory Illusion is hard to read, but it's also very interesting. It's science, but Shaw writes in a way that the average person can understand. Definitely a book good for discussion!
***
Now it's time for some reviews I've already posted-

The Sea in Winter by Christine Day
The Sea in Winter is a beautifully written middle grade novel. I actually read the entire book in a day, and I will admit it had me tearing up in parts. It's an emotional book but one that I think many should read, especially those in the target age group of 8-12 years old.
Check out my full review
All the Lives I Want: Essays about My Best Friends Who Happen to Be Famous Strangers by Alana Massey
There's a part in the book where Massey says she dislikes magazines that say a woman "got her body back" after having a baby. No, she didn't. We got her body back. I thought the way she explained this was really eye-opening.
Check out my full review

Autoboyography by Christina Lauren
I really loved the struggle between faith and feelings, and that Christina Lauren didn't turn religion into the bad guy. It might be against the "rules" to act on feelings of same-sex attraction, but that doesn't mean that everyone believes that or feels the same way. Not everything is black or white when it comes to feelings, and it doesn't have to be when it comes to faith or religion either.
Check out my full review

Before the Devil Breaks You by Libba Bray
This is the third book in The Diviners series and it's just as good as the rest. Hopefully I'll find time to read the fourth and final book soon. This is a YA series but I think adults would enjoy it too as it leans toward the older end in terms of characters and content.
Check out my full review 

The Black Flamingo by Dean Atta
The Black Flamingo is a YA novel written in verse and it takes place in England. The book follows Michael, who is mixed-race and gay. These are just aspects of who he is, but they are important aspects. While it was nice to see the book go from young Michael to college aged Michael, I will admit that the book picked up more for me once he was older.
Check out my full review

Beastly Bones by William Ritter
Beastly Bones is the second book in the Jackaby series. The series takes place in 1892 New England and follows the perspective of Abigail Rook. She is employed by R.F. Jackaby, a private detective of sorts. This book takes them away from the city and into a mystery that might involve dinosaurs. These books remind me of Sherlock Holmes in terms of Jackaby being like Sherlock and Abigail being his Watson. The big difference is that Jackaby is a private detective of the supernatural.
Check out my full review
***
Before I let you go, I'm hosting a giveaway for Black History Month on Instagram if you'd like to enter. It's U.S. only and ends this Saturday, February 13–
View this post on Instagram