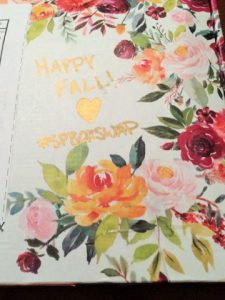 Another Monday…but I have some fun things to share today, so hopefully it's not too bad of a start to your week! The above photo is the box that my fall swap goodies came in! Isn't it just adorable? It immediately made me excited to open it up! This fall swap was put on by Ashley and Dean and they do one for every season, so follow them to learn about the winter swap in a few months! My swap partner for the fall swap was Jennifer from The Unicorn's Delight. I sent to her, and she sent to me, and these are the fun goodies that I got…
Unfortunately, a couple of the little pumpkins broke in transit but one was fine and the other can be gorilla glued together again, so I just lost one. Not too bad! I also got this cute pumpkin plate which is currently being used as decoration in the kitchen. I'm also holding on to that Cheryl's cookie – they have some of the best, so I'll be enjoying that soon! And look at that yoga dog notebook! Isn't it adorable? I need to figure out something really fun to use it for because it must be put to good use! I was also sent some beautiful washi tape, a wooden Happy Fall decoration, some fun pens, and a few really cute notepads. Oh, and I also got some pumpkin magnetic bookmarks that are adorable! Thank you so much Jennifer!
Caffeinated Book Reviewer is hosting their annual HoHoHo Readathon from November 8 to November 15 (Wednesday to Wednesday). This is probably the second year I've taken part and I'm really excited to break into some Christmas/Winter themed reads. You can find more details here.
HoHoHo Readathon starts November 8 - get your holiday/winter reads in! #bookblogger
Click To Tweet
Today, I'm going to share the books that I would like to get read during this festive week of reading! We'll see what happens, but if I can get at least one book read, I'd call that a success!
We Wish You a Murderous Christmas by Vicki Delany
A Family for Christmas by Jay Northcote
A Christmas Kiss by Annabelle Jacobs
Walking On Thin Ice by Jocelynn Drake
I own the first book on my list and it's one I've been meaning to read for awhile (since it's the second in a cozy mystery series and I loved the first) but I don't have the other three. However, they should all be fairly well-priced if I buy the e-book so I'm going to purchase them and see what I can get read! I'll read all of them this holiday season regardless, even if it's not during the readathon. I have another Christmas themed cozy mystery that I'd love to read soon, but I feel like I'll only have time for Delany's read!
Anyway, let me know what you think of my book choices! Have you read any of these – and if so, what did you think?
Are you doing the readathon? I'd love to know your book choices!
I saw the movie Thor: Ragnarok this past Saturday and it's another hit for the Marvel universe. It's a bit of an explosion of the 80's from the music to the neon and brightness. Basically, the latest Thor movie is a lot of fun! It brings Thor, Loki, and The Hulk/Bruce Banner together to defeat the Goddess of Death, Hela, from taking over their home planet and unleashing a war across others. Along with the three men mentioned before, a new character is introduced known as Valkyrie, wonderfully played by Tessa Thompson. I think I've found a new favorite Marvel character for sure! She has her demons, but she's a fighter and downright bad ass.
Thor: Ragnarok movie review: a hilarious Marvel addition! #ThorRagnarok
Click To Tweet
One of the best things about this movie, for me, is the humor. I like when action films have funny moments because it helps break up the action and suspense. Thor: Ragnarak does a great job of blending the overall story with plenty of humor and lots of heart too! In the past Avengers films, Tony Stark/Iron Man is usually the funniest character, but Thor gives Tony a run for his money in this one (not that Tony appears in Ragnarok). Hopefully in future Avengers films, Thor will keep his funny bone! Another fun aspect of the movie are the little cameos – one is a famous actor who is not normally in the Marvel films, another is a Marvel character we've seen before, and another new character is actually voiced by the director, Taika Waititi.
I definitely recommend this one! Nice start to the fall movie season.