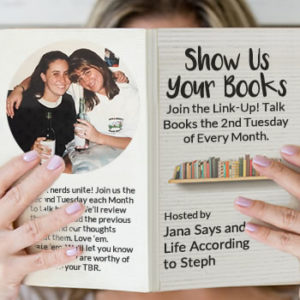 Why yes, there was a Show Us Your Books post earlier this month. This time though, we are all sharing our top reads from the past year! As always, I'm linking up with Jana and Steph!
First off though, if you celebrated Christmas yesterday, I hope it was fantastic and not full of stress!
Show Us Your Books: My Top 2017 Reads (MG, YA, and Adult) #top2017reads #books
Click To Tweet
Top Reads of 2017
To figure this out, I decided to go back on Goodreads and share all the books that got a 5-star rating from me. There were quite a few, so hopefully you'll find something that stands out! Have you read any of these? Are you planning to now?
I'm going to break these up into categories – Middle Grade, YA, and Adult.
Top 2017 Middle Grade Reads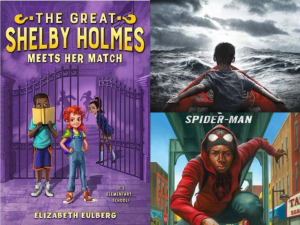 The Great Shelby Holmes Meets Her Match by Elizabeth Eulberg – second book in the series, but you can always read them out of order if you want. A pre-teen, female Sherlock Holmes!
Miles Morales by Jason Reynolds – the novel adaptation of the comic book series, where Spiderman is a black teen. I need this movie!
Refugee by Alan Gratz – this book should be read by everyone. Follows three generations of refugees (from Germany, Cuba, and Syria).
Top 2017 Young Adult Reads
As Red as Blood by Salla Simmuka – the first in a series, translated from Finnish. I cannot wait for the sequel.
Hunting Prince Dracula by Kerri Maniscalco – The second book in the Stalking Jack the Ripper series – you must read both of these! Historical fiction at its finest.
We Now Return to Regular Life by Martin Wilson – top contemporary novel right here! It deals with a kid coming home after being kidnapped but the point of views are his old best friend and sister.
History Is All You Left Me by Adam Silvera– one of my top favorite LGBT+ novels. How do you move on from your ex when they pass away, and they weren't dating you when they did? That's the biggest question in this novel – Adam Silvera is a favorite of mine, so read all his stuff.
Scythe by Neal Shusterman– this book has been out for a bit, but I just read it this year. So so amazing. It's a future world where people are appointed to kill because death no longer exists. Even if you don't read YA, I'd recommend this. The sequel comes out soon!
Rogue by Gina Damico – second book in the Croak series, where a teen finds out she's a Grim Reaper. All the books are great, but this one was definitely five star worthy!
Top 2017 Adult Reads
We Wish You a Murderous Christmas by Vicki Delany– the second in a Cozy Christmas series. Such a fun murder mystery – yes, I realize that sounds wrong, but if you know cozies, you get it!
Whiteout by Elyse Springer – definitely a suitable winter read! A m/m romance with a dose of amnesia!
Peter Darling by Austin Chant– this is such an amazing take on Peter Pan, because Peter Pan and Wendy are the same person! Yes, a transgender Wendy who falls in love with Hook. Read it!
A Murder in Time AND A Twist in Time by Julie McElwain- the first two books in the Kendra Donovan series. A modern FBI agent goes back in time and must help solve murder mysteries! I can't wait for more!
Add Murder on Goodreads, Add Twist on Goodreads
Growing Pains by Cass Lennox- the third in the Toronto Connections series; each book is a different couple but they show previous characters if you want to read in order. Features dance and second chance romance! M/M fiction.
Fast Connection by Megan Erickson and Santino Hassell – these two authors are amazing and their series together (Cyberlove) should definitely be read if you love m/m fiction. Fast Connection is one of my favorites out of them all!
Shelter the Sea by Heidi Cullinan – this is a sequel and it follows the same exact characters from Carry the Ocean, so I'd read them in order. One of my all-time favorite m/m novels. Focuses on a guy with autism and another that has anxiety/depression and how they fall in love and help each other. Beautiful novels, very realistic.
Midnight at the Bright Ideas Bookstore by Matthew J. Sullivan – such a great mystery that revolves around a bookstore and books! I guessed certain aspects, but it didn't take away my enjoyment at all!
At Attention by Annabeth Albert – one of my favorite m/m authors and I love her Out of Uniform series. This is the second, but all the books are companion novels so you don't have to read in order.