The Mortification of Fovea Munson by Mary Winn Heider
Review by Lauren
Source: copy from publisher; all opinions are my own
Official Summary (add to Goodreads): Fovea Munson is nobody's Igor. True, her parents own a cadaver lab where they perform surgeries on dead bodies. And yes, that makes her gross by association, at least according to everyone in seventh grade. And sure, Fovea's stuck working at the lab now that her summer camp plans have fallen through. But she is by no means Dr. Frankenstein's snuffling assistant!

That is, until three disembodied heads, left to thaw in the wet lab, start talking. To her. Out loud.

What seems like a nightmare, or bizarre hallucination, is not. Fovea is somebody's Igor, all right. Three somebodies, actually. And they need a favor.
Review: The Mortification of Fovea Munson actually came out in June, but I think Fall is the perfect time to read it as it takes place largely in a cadaver lab, and oh yeah, there's talking heads! While this book is for middle school readers, I think older readers would really get a kick out of it; I know I did! It also has some fun illustrations throughout the book, which were a nice touch!
Fovea is a girl that's easy to relate to – even if our own parents don't work with dead bodies everyday. She doesn't really fit in and her best friend has dumped her for another girl. Now she's stuck working at the cadaver lab all summer when her camp plans fall through. Luckily, her summer is about to get really interesting, when she realizes that a few heads in the lab are unthawing…and talking. They need a favor – and if she follows through, they'll do her a favor that will hopefully save her parents and the lab they love.
Fovea Munson is such a fun book. I loved all the characters, and there are plenty of amusing moments throughout. While there might be talking heads, I wouldn't say this is a scary read, so it might even make a nice read-aloud for school or home. I really hope there is a sequel, because I could go for more Fovea Munson in my life!
Two perfect Halloween reads (one MG, one YA) - book reviews #ontheblog. Which would you read?
Click To Tweet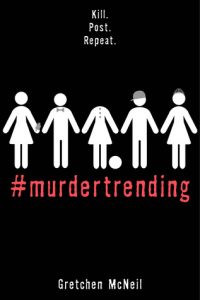 #Murdertrending by Gretchen McNeil
Review by Lauren
Source: copy from publisher; all opinions are my own
Official Summary (add to Goodreads): WELCOME TO THE NEAR FUTURE, where good and honest 8/18 citizens can enjoy watching the executions of society's most infamous convicted felons, streaming live on The Postman app from the suburbanized prison island Alcatraz 2.0.
When eighteen-year-old Dee Guerrera wakes up in a haze, lying on the ground of a dimly lit warehouse, she realizes she's about to be the next victim of the app. Knowing hardened criminals are getting a taste of their own medicine in this place is one thing, but Dee refuses to roll over and die for a heinous crime she didn't commit. Can Dee and her newly formed posse, the Death Row Breakfast Club, prove she's innocent before she ends up wrongfully murdered for the world to see? Or will The Postman's cast of executioners kill them off one by one?
Review: #Murdertrending was a book on my wish list since before it was released, so I was really excited to get the opportunity to read it for the blog. The idea of a prison system where convicted felons live on an island, with the never-ending threat of being killed in some horrible way, while millions of people watch online…it's not a premise that seems all that far fetched. People already watch crazy things in the name of reality TV, and with many who believe in capital punishment, I could see something like Alcatraz 2.0 making a lot of sense to people.
Regardless of my thoughts on capital punishment, I don't believe a place like this should exist. In #Murdertrending, it's obvious that what started out as a "good idea" quickly turns bad when decisions are made more for entertainment value than for actually punishing criminals.
#Murdertrending starts off with a bang, where readers meet Dee Guerrera waking up on Alcatraz 2.0, accused of murdering her step-sister in a jealous rage. Of course, as the reader, you're in Dee's head, so we assume that she's actually innocent…and others on the island are proclaiming their innocence too, but are they telling the truth?
This is definitely a book that keeps you reading. It's fast-paced and full of some horrific deaths (Gretchen McNeil definitely isn't afraid to kill off characters), but at the same time, I felt like we got to know the characters pretty well. It meant you felt for those that were killed, as well as those left behind still trying to fight for their lives. While the book is full of thrills and mystery, it also has some nice humor and other lighthearted moments that helped keep the book from being too depressing – and it all felt suitable to the story.
The sequel is called #Murderfunding and it comes out next August; I, for one, cannot wait for more!