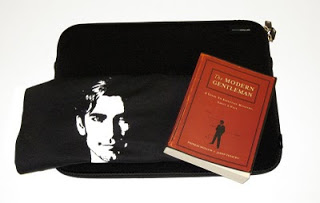 USA Network kicks off your Tuesday evening with the best looking night on television! Watch the return of White Collar at 9pm. One of the fall season's most critically acclaimed dramas, stars Matt Bomer , Tim DeKay, Tiffani Thiessen, Willie Garson, Sharif Atkins and Marsha Thomason. Visit the official White Collar website for games, photos and weekly prizes. Visit USA Network's Character Arcade to play games, challenge friends and for more chances to win prizes!
(All photos were sent for promo, I do not own)
ENTER TO WIN a WHITE COLLAR Gift Bag!
Gift Bag includes:
–Modern Gentleman's Guide
–White Collar Hat
–White Collar T-Shirt
–White Collar Season 1 DVD
To Enter-

– Open to residents of the U.S. and Canada
– Prize courtesy of USA Network. Prize pack value: $112

–Mandatory Entry: If, in some alternate universe, you were a criminal sent to jail…why would you be there?

Ends: Saturday, August 7th.

Extra Entries:

+1 if you follow this blog (leave a NEW comment or it won't count)

+1 if you leave a comment on this post and then tell me here (leave a NEW comment or it won't count)

Now that you have all the details for the giveaway, please read the following questions I was given the chance to ask Willie Garson (Mozzie on White Collar). I hope you enjoy!
Lauren: I was wondering if your son ever watched the show and what he thinks about it all.
Willie: My son watches the show every week with me. He often explains it to me, what's going on. He loves it. A lot of his friends watch it, too, at school. Yes, it's great. He was very upset when I was the sick dog. That was not a good episode for Nathan.
Lauren: My other question, since you've been in the business for so long, I'm sure you've met many of your different fans, but do you have a crazy story or something where you're like, "I can't believe this just happened"?
Willie: Things happen all the time. So, that's a hard thing. There's nothing ever that's really crazy when it comes to someone who likes what we do. It's a great … that affects what you do. I have to say, certainly, from my other show, we got a lot of— You'll be walking down the street. You see someone coming towards you. Certainly after 9/11, you could see it coming. You see a woman coming towards you, or a guy coming, mostly women, towards you, saying, "Every Sunday night, we watch Sex and the City, and I lost my husband in the towers." You can see it, 50 feet away. You know the look on their face that they're coming up and what they're going to say to you. That was very silver in terms of— It's nice that what we do can have meaning other than just filling the time between dinner and bedtime. So, that's really important to me.