Thank you so much to the Yuletide Village at Renaissance Park in Ohio for having me and my family attend on Saturday, December 4th. We had a great time, and I'm happy to share our experience with you all today!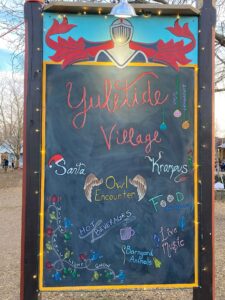 The Yuletide Village is open Friday (5-10 p.m.) and Saturday (3-10 p.m.) We chose to go on a Saturday and got there around 4.30 and stayed for a few hours. There is a lot of things to see, do, and experience! It's definitely a fun family event.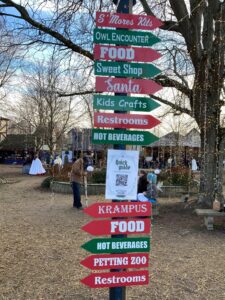 As soon as you walk in, there are signs directing you where to go for specific experiences, but the grounds are essentially one big circle if you just want to walk and see what you find.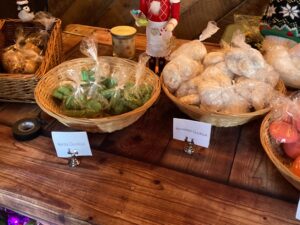 We decided to head to the right and one of the first things we saw was a building selling cookies and other treats. I got a cookie and brownie from one end, and my mom got a sample of cookies from the other end (shown above). They were all super yummy. The person who made the above cookies also painted these Christmas cut-outs below-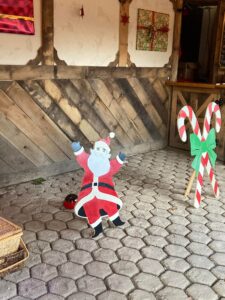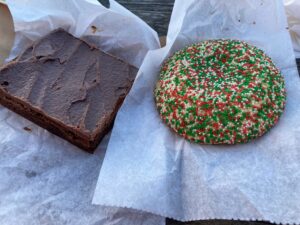 The above photo are the cookie and brownie I bought. I really liked both, but I have to recommend that sugar cookie. SO SOFT AND WONDERFUL!!!
If you went to the Ohio Renaissance Festival, it's the same grounds, so all the same buildings are there. Some are closed up, but decorated on the outside, while others were the same shops – and still some were "repurposed" for the Yuletide Village.
At the time that we got there, we were all pretty hungry and on the hunt for something we could eat (before diving into any sweets).
We decided to stop at the Soup Elves. My parents and sister all got the chicken noodle soup, but I went with a hot dog, which was really good.
My parents both really enjoyed their soup, as you can see above!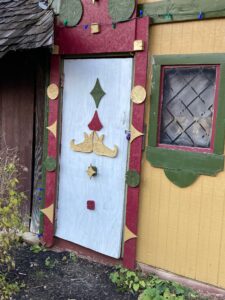 I walked around, checking out the various shops and cute decorations.
My sister ended up buying a lantern from this shop, shown above!
Lots of lovely trees throughout the village!
I had to sneak in a couple selfies here and there to show off the fun lights/decorations!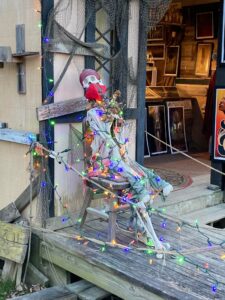 I love how they added lights to an Ohio Renaissance Festival decoration! A very festive skeleton, indeed.
It didn't take long before it started getting dark, which just made all the decorations and lights even more beautiful!
This fun arch was perfectly staged for photo ops, so I enlisted my sister for one!
My parents posted in front of this pretty tree!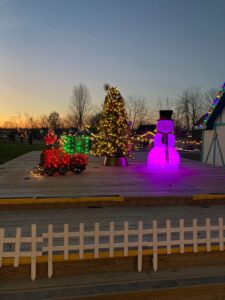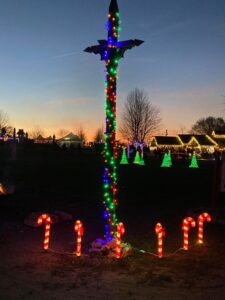 There was even a little petting zoo, which was really cute! Great for kids, but really any animal lover.
I got to pet the donkey in the bottom photo; they were very soft! I'm like a big kid – I love petting zoos.
We headed to one of the covered areas to eat some more fun food and listen to music.
Soon after we got there, some carolers went on stage and they were really lovely!
We all shared a couple of soft pretzels as well as this chocolate roll, as shown above. I wasn't sure what to expect, but it's kind of a like yule log (if you've had one of those). It was good!
Afterwards, we came across this sleigh that made another great photo opportunity for my sister and me!
This ship is something that's part of the Ohio Renaissance Festival, and I love how they decorated it for the Yuletide Village! Very fun.
I really like how they made this area look like water and grass with lights. I'm standing on a mini bridge, and there's another bridge across from me.
I had to grab a quick photo of Krampus! You could get a photo WITH him, but the line was very long. Santa was across the village if you wanted to get a photo with him too.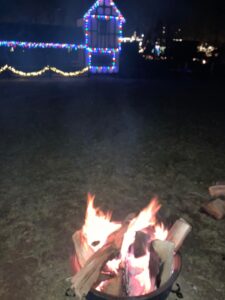 I really appreciated all the fire pits across the village. You could buy s'mores kits and use the fires to roast them, or just get a bit warmed up as you walked!
One of the last things I did at the village was check out this glass blowing demonstration. It was really cool. and next door, you could buy some of their ornaments and other glass sculptures.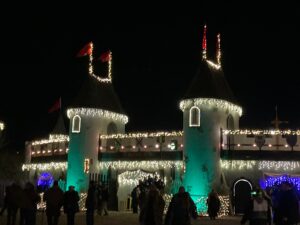 A look at the entrance right before we left!
Now, I wasn't really planning on doing any shopping at the village –  beyond the yummy food – but my sister ended up buying me something as an early Christmas gift.
It's a cloak!!! It's velvet and soft on the outside and smooth/satin on the inside. Mine is black, and my sister got one that's green. I love it so much – I feel like a wizard!
Along with her cloak, my sister also got a lantern and ceramic Christmas tree that lights up (my parents also got a tree). I think it was a very successful trip to the 2021 Yuletide Village. If you live anywhere near the Ohio Renaissance Park, I highly recommend you check it out. It's open Friday and Saturdays through December 18th so you have two more weekends to attend.
Before you go, I shared a couple videos to YouTube. If you have an account, please give them a like!