If you like this post, please share the below image to your Pinterest page
Thank you so much to the Ohio Renaissance Festival for providing complimentary tickets, as well as some "pounds" for food and drink. I had a wonderful time at the 2021 Ohio Renaissance Festival and I hope you enjoy my wrap-up below. If you live near the festival, please think about attending. It's open Saturdays and Sundays throughout October.
2021 Ohio Renaissance Festival: A Review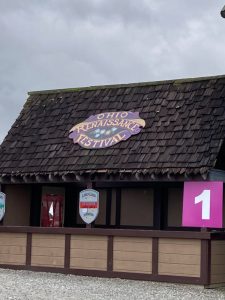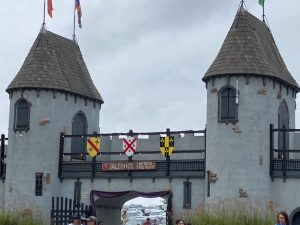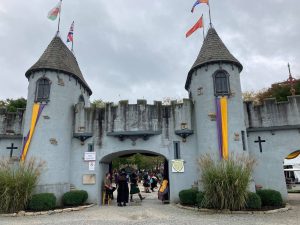 Every weekend has a different theme, so you're likely to see a lot of fun costumes that suit that particular theme. The weekend I attended, October 2 and 3, it was Time Travelers Weekend. I saw costumes from Doctor Who to Doctor Strange. That's one thing that I really love about the festival – all the costumes and looks that people come up with! I even came across a Sirius Black and Tonks, and I had to let them know I loved their costumes.
I love these signs that you can find across the festival grounds. Most of them are showing you where to see specific shows or get certain foods, but there's one that's particularly nerdy, that I had to document!
I kind of want one of these in my own yard! Who's with me??
By the time we got to the festival (I live about an hour away), it was definitely time to grab some food before doing anything else. My parents love the bread bowls so they both got a broccoli and cheddar bread bowl, which I ate a bit of myself.
After they were finished, I grabbed my own food, which is something I've been eating the last few times I've attended – bourbon chicken and rice.
There are definitely a lot of good options for food, though my family tends to stick to our favorites. I mean, you don't really get them unless you attend the festival every year, so it's a fun tradition!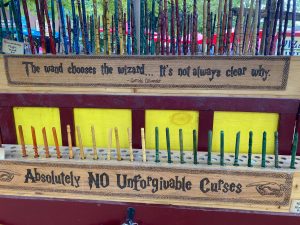 I definitely checked out all of the shops to see if there was anything I wanted to bring home with me. I ended up only getting one thing, but I'm pretty excited about it. I chose a Hogwarts themed wand. They had ones for each particular house, and even other HP themed ones, but I went with this, because it looks like a typical wand at the end, with the Hogwarts emblem at the top.
I took my wand photos when I got home, so I had to show it off with my new Gryffindor vest –
I do love the variety of items that you can find at the Ohio Renaissance Festival from jewelry to kid's costumes to cloaks to chainmail!
My mom got corn on the cob, which is something she tends to get every year. As you can see from the above photo, it was tasty!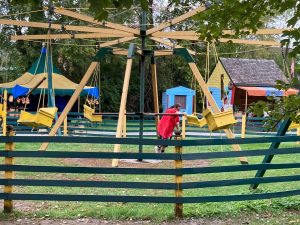 I love all the kid's rides because they really fit the time period, in terms of them not being electric. As you can see from the carousel above, there is a guy who pushes the ride in the middle to get it moving/swinging. These workers must be strong!
Another aspect of the Ohio Renaissance Festival are all the acts/shows that go on. Above is a photo of Moonie, who was humorous and very talented!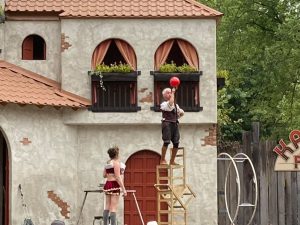 We even saw a bit of Kamikaze Fireflies, who we have seen live before. They make a great team and do some awesome feats!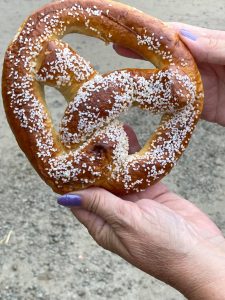 One of the last things I ate was a pretzel, and it was super yummy! My mom got an apple dumpling for the road home and she said it was "to die for."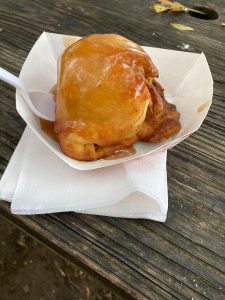 The 2021 Ohio Renaissance Festival has tons to see, do, eat, and enjoy, so you're definitely going to want to attend! You can even go more than one day, or weekend!
I love how it looks like a little village on the festival grounds, and it's always exciting to see people geeking out with other fans! The Ohio Renaissance Festival is for adults, kids, and families. Everyone can find something to enjoy and experience!
A Review of the 2021 Ohio Renaissance Festival #ontheblog #ohiorenfest
Click To Tweet
It's a memory waiting to happen…so tell me, will you be attending this year?