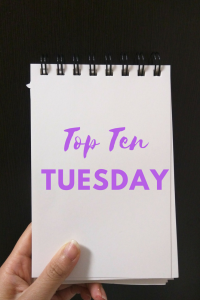 Top Ten Tuesday is hosted by Jana from That Artsy Reader Girl
Last week I shared my Top 10 Bookish Wishes, and I wanted to thank whoever sent me All Systems Red by Martha Wells. I cannot wait to read it!
Most Anticipated Releases of the Second Half of 2021
Today's subject is all about those books we're dying to read from the second half of 2021. You can see my Most Anticipated Releases in the First Half of 2021 if you want to remind yourself what I wrote. I'm including affiliate links, which means I get a small % of any purchase at no extra cost to you.
Oh, and I probably won't limit myself to just 10 books! That's way too difficult! Click the links to learn more about each book.
July Books:

The 22 Murders of Madison Way by Max Barry 
Out July 6  

The Temple House Vanishing by Rachel Donohue 
Out July 6 

The Taking of Jake Livingston by Ryan Douglass
Out July 13  

The Final Girl Support Group by Grady Hendrix
Out July 13  

When All the Girls Are Sleeping by Emily Arsenault 
Out July 13

After the Ink Dries by Cassie Gustafson and illustrated by Emma Vieceli
Out July 20

For Your Own Good by Samantha Downing
Out July 20  

The Book of Accidents by Chuck Wendig
Out July 20  

CiCi's Journal: Lost and Found by Joris Chamblain illustrated by Aurélie Neyret 
Out July 20

The Silver Blonde by Elizabeth Ross
Out July 27  
August Books:

For the Love of Friends by Sara Goodman Confino
Out August 1  

Did I Say You Could Go by Melanie Gideon
Out August 3  

In My Dreams, I Hold a Knife by Ashley Winstead
Out August 3 

The King of Infinite Space by Lyndsay Faye
Out August 10  

In the Shadow of the Fallen Towers: The Seconds, Minutes, Hours, Days, Weeks, Months, and Years After the 9/11 Attacks by Don Brown
Out August 10 

Chasing the Boogeyman by Richard Chizmar
Out August 17  

The Woods Are Always Watching by Stephanie Perkins
Out August 31  

The Little Mermaid: (Or, How to Find Love Underwater) by J. M. Farkas illustrated by Gina Triplett 
Out August 31

My Heart is a Chainsaw by Stephen Graham Jones
Out August 31 
September Books:

 

These Toxic Things by Rachel Howzell Hall 
Out September 1 

No Gods, No Monsters by Cadwell Turnbull
Out September 7  

Rock Paper Scissors by Alice Feeney
Out September 7  

Never Saw Me Coming by Vera Kurian
Out September 7 

The City Beautiful by Aden Polydoros
Out September 7  

White Smoke by Tiffany D. Jackson
Out September 14

The Corpse Queen by Heather M. Herrman
Out September 14  

The Other Merlin by Robyn Schneider 
Out September 21
October Books:

No Memes of Escape by Olivia Blacke
Out October 5  

The Storyteller: Tales of Life and Music by Dave Grohl
Out October 5  

Tonight We Rule the World by Zack Smedley
Out October 5  

Bad Girls Never Say Die by Jennifer Mathieu 
Out October 19 

Three Pianos: A Memoir by Andrew McMahon 
Out October  26 
November Books:

Blood: A Memoir by the Jonas Brothers
Out November 9  

The Nobleman's Guide to Scandal and Shipwrecks by Mackenzi Lee
Out November 16 
December Books

:

True Crime Story by Joseph Knox
Out December 7  

If This Gets Out by Cale Dietrich and Sophie Gonzales
Out December 7  
***
And I'll end it there, even though I know I could keep adding books! Hopefully you found some new books – did you add any to your wish list? Do we have some in common already?