When In London: The London Eye
The London Eye is probably something that enters a lot of people's mind when they think of London, England. It's essentially a ferris wheel except you're fully enclosed. As someone who is terrified of heights, and hates ferris wheels, I wasn't really sure about going on the London Eye. However, my aunt offered to get tickets for my mom, sister, and I, so I figured why not? When in London, right? I don't know what all the specific parts are called so I'm referring to the entire London Eye as the wheel and the enclosure you're in as the ball.
Here are 3 Things to Know about the London Eye!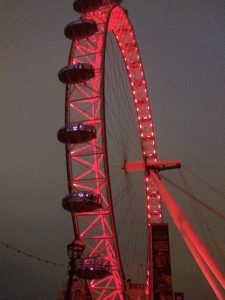 It's 30 Minutes Long
Yes, it takes the wheel about 30 minutes to go fully around, but do not worry! It's not a quick ride by any means so you don't really feel like you're moving that much. You know you are, because you're inside an enclosure that lets you see all around, but the actual movement is pretty slight.
You Can Sit Down
There is a square bench of sorts in the middle of the ball, so if you are a bit wary of standing, you don't have to if you don't like. I stayed seated the entire time, since like I said before, heights freak me out. I tried to keep my eyes pointed straight or up so I wasn't really focusing on everything beneath me. What you see changes, though, as the wheel brings you around, so don't worry if you are scared of looking down!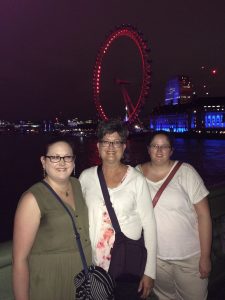 You're Never Alone
No, this isn't meant to be creepy! If you have a huge party, then you might be in a ball with just the lot of you, but chances are you'll end up with another group or two. My family ended up with two different groups, I believe, and it is kind of fun learning where people are from! After all – people from all over the world come to London, England.
Lauren Does London: 3 Things to Know Before Riding The London Eye in London, England #ontheblog #londonengland #londoneye
Click To Tweet
I do suggest buying your tickets online if you're planning on going as they are a bit cheaper. Tickets are around £23.40 (online) but the London Eye is actually right near a lot of other fun tourist attractions, so if you go to more than one, you get some nice deals. For example, if you do the London Eye and one other attraction on the list, it's £36.00 for both! The only other item I did from this list is The London Dungeon, but it would have been nice to know about this when getting tickets as I highly recommend checking out The London Dungeon too.