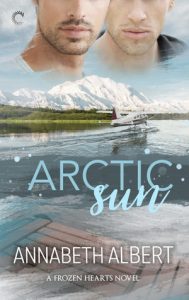 Arctic Sun by Annabeth Albert
Review by Lauren
Source: copy from Netgalley; all opinions are my own
Official Summary (add to Goodreads): Ex-military mountain man Griffin Barrett likes his solitude. It keeps him from falling back into old habits. Bad habits. He's fought too hard for his sobriety to lose control now. However, his gig as a wildlife guide presents a new kind of temptation in superhot supermodel River Vale. Nothing the Alaskan wilderness has to offer has ever called to Griffin so badly. And that can only lead to trouble…
River has his own methods for coping. Chasing adventure means always moving forward. Nobody's ever made him want to stand still—until Griffin. The rugged bush pilot is the very best kind of distraction, but the emotions he stirs up in River feel anything but casual, and he's in no position to stay put.
With temptation lurking in close quarters, keeping even a shred of distance is a challenge neither's willing to meet. And the closer Griffin gets to River, the easier it is to ignore every last reason he should run.
Review: Arctic Sun is the first book in a new series by Annabeth Albert called Frozen Hearts. I'm a huge fan of this author and I've read most of her books, though not all (yet!) However, I have to say that I didn't truly love Arctic Sun. Don't get me wrong – it has a nice premise, and I really liked Griff and River and I wanted them to be together. I just wish some of their respective pasts were explored more. Both of them have demons, if you will, and while these are something they finally learn to focus on more and deal with better, it doesn't really happen until near the end of the book. I would have loved more focus on that. I'm a big character person, so it just would have been nice for that to have been delved into more, so I could really connect with the characters. Regardless, I did enjoy this one and I give it three stars. I'm excited for the next book in the series!!
Arctic Sun + Heated Rivalry book reviews #ontheblog #bookbloggers
Click To Tweet
Heated Rivalry by Rachel Reid
Review by Lauren
Source: copy from Netgalley; all opinions are my own
Official Summary (add to Goodreads): Pro hockey star Shane Hollander isn't just crazy talented, he's got a spotless reputation. Hockey is his life. Now that he's captain of the Montreal Voyageurs, he won't let anything jeopardize that, especially the sexy Russian whose hard body keeps him awake at night.
Boston Bears captain Ilya Rozanov is everything Shane's not. The self-proclaimed king of the ice, he's as cocky as he is talented. No one can beat him—except Shane. They've made a career on their legendary rivalry, but when the skates come off, the heat between them is undeniable. When Ilya realizes he wants more than a few secret hookups, he knows he must walk away. The risk is too great.
As their attraction intensifies, they struggle to keep their relationship out of the public eye. If the truth comes out, it could ruin them both. But when their need for each other rivals their ambition on the ice, secrecy is no longer an option…
Review: Heated Rivalry is the second book in the Game Changers series, the first being Game Changer. I really loved Game Changer so I was excited to check out Heated Rivalry. This book covers a range of years, but it overlaps with the first book (though the characters in Game Changer are just mentioned, not actually "shown"). For this review, I thought I'd do a bit of a pro and con list!
Pros–
Ice hockey, which I love to read about
Shane and Ilya – I really was rooting for them
Shane's parents – they are always there for him and super supportive
Shane's best friend – he's on Shane's hockey team and he's just really funny!
The emotion- I really enjoyed getting to know more about these respective men; Ilya's background is especially heartbreaking
Cons–
Shane and Ilya carry on a secret tryst for years – so I kind of missed more of them just hanging out and being together. You get some at the end, but not as much throughout
The end was a bit bittersweet. I wouldn't say it's a big con, as it's realistic, but it's still vastly different from Game Changer
All in all, I did enjoy this one! I'm curious if there will be a third book in the series. I'm not sure who it would focus on though – as Ilya was a character mentioned in Game Changer, and I can't think of anyone in Heated Rivalry who might have their story told.