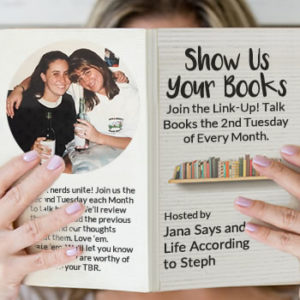 This post contains a sponsored link; all opinions, as always, are my own
It's weird that it's only the second Tuesday in August…being the 13th and all. But it is, and that means it's time for Show Us Your Books! with Jana and Steph.
Show Us Your Books: Mini book reviews, book giveaways, and more! #bookgiveaway #bookbloggers
Click To Tweet
Arctic Wild by Annabeth Albert (copy from Netgalley; all opinions are my own)
Add to Goodreads
I read the first book in this trilogy (all are companion novels), Arctic Sun, and I liked it okay. It wasn't my most favorite book by Albert, but it wasn't bad. I definitely liked Arctic Wild a bit more. Tobias is a tour guide in Alaska, where he meets lawyer, Reuben. The trip was supposed to be for Reuben and a couple friends, but they couldn't go last minute, so it's just Reuben and Tobias…and their slowly burgeoning friendship and then relationship. In the summary, it talks about a plane crash, and that's a big moment in the book but the book covers much more than the crash. Arctic Wild is an age-gap romance (and Reuben has a daughter that appears about halfway through the book), and I definitely rooted for these two to make a family together!
Dreamland Burning by Jennifer Latham (library copy; all opinions are my own)
Add to Goodreads
For those that don't know, I'm in a YA for Adults book club at my local library. Dreamland Burning was our July pick and it was so good. Everyone in the meeting really enjoyed it, and my sister and I both gave it five stars. The book goes back and forth between two timelines: Rowan Chase in the present day; a biracial girl who finds a skeleton in her family's back house and one hundred years earlier, there is Will Tillman. It takes Rowan to uncover the mystery of Will, and I definitely did not unravel it until all was revealed in the book. I enjoyed Will's timeline a bit more than Rowan's, but I really did like both, and I think both of their stories and experiences are important. Will's timeline focuses on the Tulsa Race Riots, which a lot of people don't know about. It's something that I'd heard of, but I didn't know the history behind the name, and I'm so glad I do now. It's an important part of history, and with racial tensions these days, still just as important.
The Color of Summer by Anna Martin (copy from Dreamspinner Press; all opinions are my own)
Add to Goodreads
The Color of Summer was a pretty cute read. It follows Max, a tattoo artist, moving back to his hometown and reconnecting with his best friend's older brother, Tyler. I liked that Max was really good with Tyler's daughter, who is six. He understands that she has to be there a lot of the time, or that Tyler isn't always available. As for Tyler, he's someone that when he falls, he falls hard. Max is much more of a casual dater, so it was an adjustment for both of them. Obviously I rooted for these two! I loved Max and Tyler's families as well – they made wonderful, eccentric secondary characters.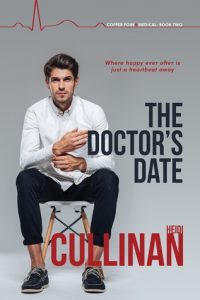 The Doctor's Date by Heidi Cullinan (copy from Dreamspinner Press; all opinions are my own)
Add to Goodreads 
I've read quite a few books by Cullinan at this point, and she's definitely a favorite author. The first book in this series (all companion novels, but I recommend reading in order!), The Doctor's Secret, was good, but not amazing. However, I liked The Doctor's Date that bit more (difference between 3 stars and 4 stars). The Doctor's Date focuses on Dr. Owen Gagnon and HR director Erin Andreas. Owen is someone who comes across as mean and not to be messed with, unless you're his friend. Erin, on the other hand, is still controlled by his overbearing father and often feels inadequate. Erin isn't scared of Owen though, which Owen loves. The two end up dating – after Erin bids a lot of money on Owen for a charity auction benefiting the hospital – and I loved it! Erin has very little experience when it comes to relationships in general – and he's never been in a romantic one – but Owen was really sweet and willing to take it slow. There is a mystery in this one too concerning money going missing from the hospital, which I found intriguing and I was curious to see who the culprit would end up being!
View this post on Instagram
Last week I reviewed the first two books in a Middle Grade series, Amelia Fang and the Barbaric Ball and Amelia Fang and the Unicorns of Glitteropolis. These were two really fun books, with great black and white illustrations throughout. Feel free to check out my book reviews for Amelia Fang.
View this post on Instagram
And finally, I did a buddy read/review with Crystal from Lost in Storyland for Nevernight by Jay Kristoff. You might recognize his name from the Illuminae Files, which are YA books he co-wrote with Amie Kauffman. Nevernight is the first in a fantasy trilogy (the third comes out this Fall), aimed at adults – sex, violence, swearing. You get it all! We both really enjoyed this one, so go check out our review for Nevernight and even enter a giveaway to win your choice of book up to $15 (it doesn't have to be Nevernight); open to International entries if The Book Depository ships to you!
***
Relaxing with a good book is totally self-care for me. Courtesy of Massageaholic, I wanted to share their list of the 10 best massage recliners. I could seriously go for one of these!
More Book Giveaways
Since this is a book link-up, I figured you'd all like to know about even more book giveaways!
Win a Year's Worth of Books – 12 books (1 for each month); books chosen based on winner's wish list/interests. U.S. only unless you can help with shipping – ends August 31
Book of Choice up to $20 (International) – Ends August 16
Book of Choice up to $25 (International) – Ends August 30
Book of Choice up to $10 (International) – Ends August 14
Book of Choice up to $15 (International) – Ends August 31 – this is the giveaway attached to the Nevernight review, but I wanted to re-share
Bookmark this link-up for future book giveaways (more are coming in honor of my 12th Blogoversary!)
One More Thing Before You Go-
I host online auctions called Leave a Mark Auctions. These will be ongoing, so you'll want to keep stopping by to find new auctions. You can bid to win ANNOTATED copies of books (the author wrote notes in the margins of one of their books), with all money going to the charity First Book. Right now you can bid on a signed/annotated copy of Nerve by Jeanne Ryan (ends August 23), and you can bid from any country but it's USD.