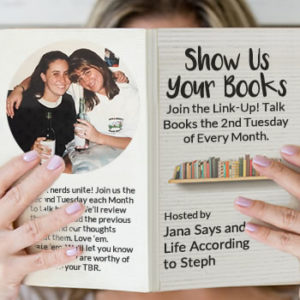 It's time for Show Us Your Books, hosted by Steph and Jana!
Before I start some new reviews, I wanted to go back and give a shout out to some book reviews I did since the last Show Us Your Books.
Past Book Reviews
Arctic Sun by Annabeth Albert (adult book)
Heated Rivalry by Rachel Reid (adult book)
The Doctor's Secret by Heidi Cullinan (adult book)
Love & Other Curses by Michael Thomas Ford (YA book)
New Book Reviews
Cut & Run Book series (first four books by Madeleine Urban and Abigail Roux; last five by just Abigail Roux)
Source: e-library; all opinions are my own 
Add to Goodreads
Over the past couple of months, I read this nine book series, and I really loved them. I'd seen these books around for awhile so I'm glad I finally gave them a shot. They follow two FBI agents who are thrown together as partners in the first book, Cut & Run. The two eventually become personal partners as well as professional. Each book has its own specific mystery, but there are some overarching mysteries throughout the entire series so I'd read them all in order if you can. I love how distinctly different Ty and Zane are, but they work. The first book probably has my favorite mystery of the series, but I really did enjoy them all.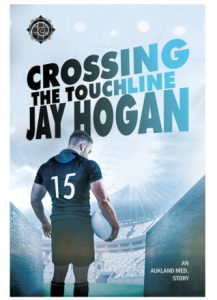 Crossing the Touchline by Jay Hogan
Source: copy from Dreamspinner Press; all opinions are my own
Add to Goodreads
I don't know anything about rugby, so that aspect of the book confused me somewhat, but besides the fact that Reuben Taylor is a top rugby player, they didn't delve into the sport too much. Reuben is gay, but his father has made it clear that's not okay – and so he focuses on being the best on the field. That's until he meets Cameron Wano, the brother for a fellow rugby player. I really liked Reuben and Cameron together, though it's not easy for them. I thought the dynamics within the Taylor family were interesting, though heartbreaking too. 3/5 stars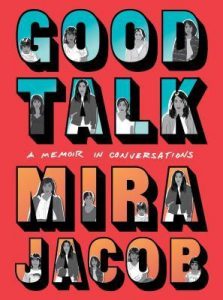 Good Talk: A Memoir in Conversations by Mira Jacob
Source: copy from the library; all opinions are my own
Add to Goodreads
I think this is a book that more people should read. It's in a graphic novel format, but it really is a memoir in conversations. Each chapter focuses on a different facet of Mira's life, from growing up to raising her own son. The book does go into politics – it's difficult not to when someone ran for president (and became president) who is so blatantly racist and sexist. There are a lot of conversations that Mira has with her young son about people looking at him and being afraid, or not liking him without even knowing him (he's half-Indian, half-Jewish). It's sad, but it's also a depiction of life and how some people in the United States (and around the world) are treated. Definitely recommend! 4/5 stars
Show Us Your Books: a nine book series and a memoir in conversations #ontheblog #bookbloggers
Click To Tweet
That's it from me this month. Any of these books look good to you? Have you read any of them already? I hope May is a fantastic reading month!