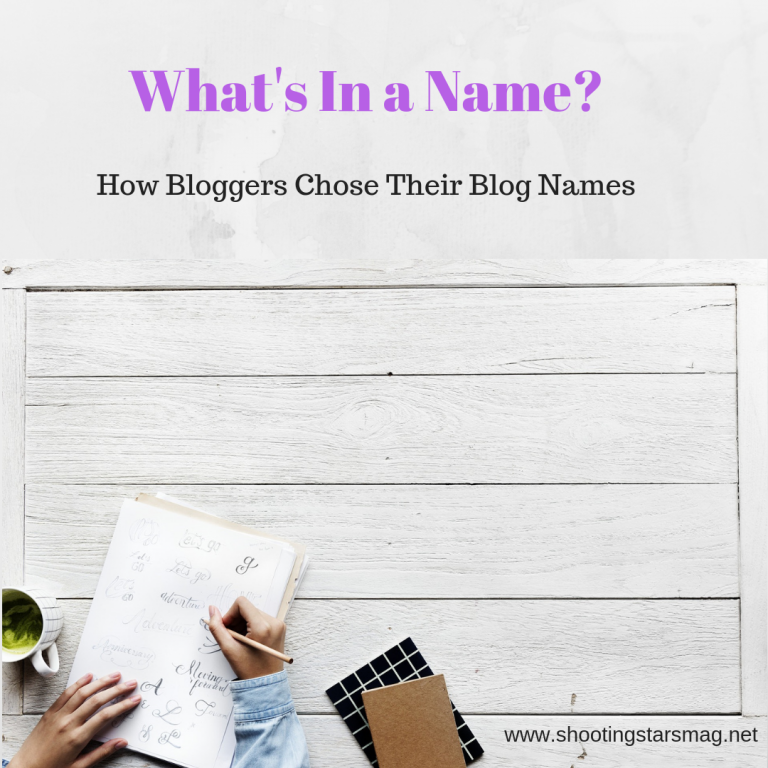 Back in 2018, I had a post titled How Bloggers Chose Their Blog Name. I asked a bunch of different bloggers this question and created a fun post. Then, I got a lot of comments with other bloggers sharing how they came up with their name and I saved all of those for future posts! It's been almost two years now, but I'm finally sharing part 2. You can expect part 3 next month!
What's In a Name? How Bloggers Chose Their Blog Names Part 2
You know what, my blog name was always supposed to reflect that I was going to do a variety — movies, books, tv reviews — but I never could reflect that as much as I would've liked. But the name has stuck and I am still trying to decide what's a good name!
Mine has been through several incarnations, but I settled on Coffee Until Cocktails because I think it perfectly describes my working mom life!
I came up with mine because I was a review blog and I planned to do a weekly "roundup list" so The Trish List was born. I haven't done a single round up list, but the name stuck and I think it works for all topics!
My IRL nickname is La La and my username and RP name, on a Harry Potter social site I was a member of, was La La Toadstone. Most bookish people and Goodreads members who knew me when I started the blog were from that site, so I used it for name recognition. The "in the Library" is because I used to do literacy tutoring in our public library. The "Accidental Blogger" comes from the fact that I was trying to set up a Googke+ account to get an entry for a book giveaway, and instead I accidentally registered a Blogger blog.
My blog name came to me fairly easily. I am never without a book… ever. I always leave the house with a physical book, my Kindle, at at the very least, the Kindle app on my phone. So Girl Plus Books summed me up pretty well!
Mine began as Kimba the Caffeinated Book Reviewer and evolved into the Caffeinated Reviewer as I added audios etc. (Kimba by the way was a white lion in the golden book of the same name. My Dad used to call me Kimba as a childhood nickname)
My blog name is because I moved from NJ to KS and in the Wizard of Oz they are not in Kansas anymore, so I'm not in Jersey!
I personally came up with my blog name kind of… randomly, but not so randomly, either. I was thinking about my favorite John Green quote, and one of my favorites of all times, "If people were rain, I was drizzle and she was a hurricane." and… it kind of came from here. It also made me realize that books, too, can be like that. Either silent drizzles or massive hurricanes.
My blog is named after my farm and orchards. We named our farm/orchards Orison Orchards because Orison means prayer, and we knew we needed a lot of prayers to become successful!
Mine is a play on the phrase "a kernel of truth" meant to reflect my often facetious personality.
My original blog name was Dirt and Noise because my brother-in-law sent me a quote about being a "boy" mom. But, someone else had the domain and a similar blog name, so I went with my first and middle name, since I know no one else would have that!
***
If you never gave me your answer in the original post, feel free to share how you came up with your blog name in the comments. Who knows? I might just add a Part 4 to this series!