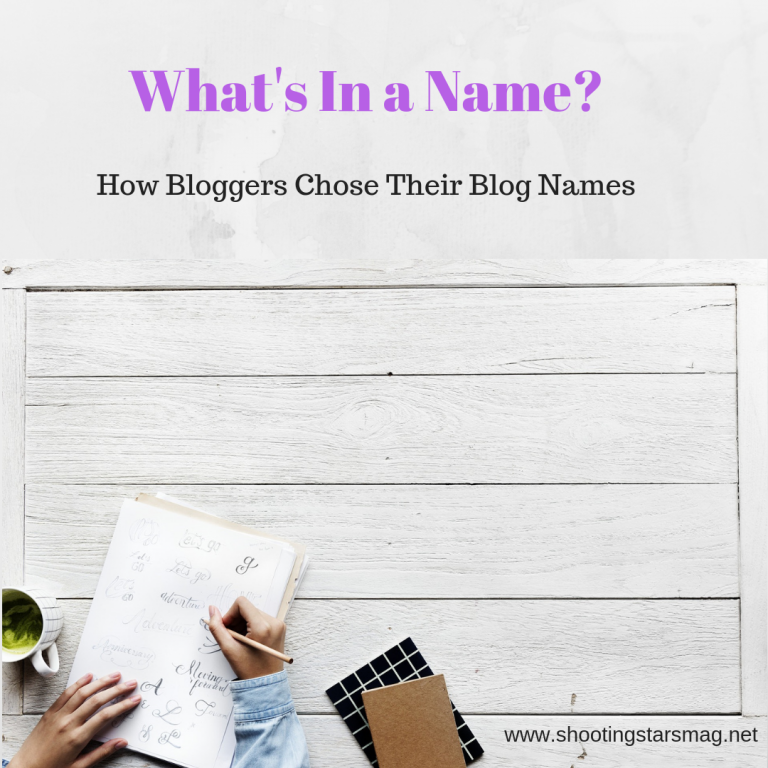 It's time for another edition of What's In a Name? I always love hearing the stories behind people's blog names, so I hope you do too. If you haven't given me the story of your own blog name yet, leave it in the comments, and I might just do a part four!
What's In a Name?: How Bloggers Chose Their Blog Names
My blog name is rather simple… it's my name and then I just tacked on "Reads" to the end. I spent hours and hours trying to brainstorm something a bit more creative, but this is the one I kept coming back to. I really like my first and middle name, so it worked out. The funny part is, I have another hobby, photography, and my name for that is "Erica Robyn Photography." So I haven't been the most creative… but it does help with personal branding! I just loop everything in and keep the focus on my name.
When I started my blog, I wanted to post on a variety of topics. I planned to talk about my mom's cancer battle, books, and gluten-free cooking. All of the names that I thought of were taken so I settled on Carole's Random Life. I ended up only posting about books so my blog has always been a book blog. My daughter suggested I add in Books to my blog name so it is now Carole's Random Life in Books.
Mine's not super original in that I'm a Libra who likes all things Bookish, therefore my blog is The Bookish Libra. Since I like to write fair and balanced reviews, I liked the idea of using my zodiac sign since Libras are supposed to like all things balanced.
Mine originally was Deanna Writes, but since I started doing more book reviews I switched it to Deanna Reads Books, although I do write about non-bookish things now.
I originally wanted mine to be "Life by Louise" (which is my middle name), but that was taken so I switched to "as" instead. It works because occasionally I'll shorten it to LaL. I also originally signed off on posts as Louise but I use my actual name now.
I blog with my four sisters and my sister-in-law, and we named our blog This Blue Dress. We wanted a symbol of something we all shared together, and we settled on a beautiful blue dress that most of us wore to prom. My sister-in-law and one of my sisters also shared a blue dress! It also fit our tagline "A Closet Full of Inspiration."
When I first started my blog I called it Bon Chic Bon Gastronomique as a play on the French phrase Bon Chic Bon Genre which refers to kind of a preppy style. I studied French in college and used to be a French teacher. I wanted to combine my loves of style and food. I realized quickly that it was really hard to spell and super impractical. So a few years ago I changed it to my first and middle names, Shea Lennon. I figure my name won't change and it doesn't lock me into any specific niche, so I'm sticking with it!
My husband and I decided on ours because of our matching tattoos – No Compass Necessary – I know it might be a little odd and hard to spell but it makes sense for us!
The blog was just supposed to be my thoughts on all kinds of things. Not really reviews or about books so I thought – here's my opinion – For what it's worth.
The original WLABBers bonded over their shared love for Cassandra Clare and her Shadowhunters books, and the blog name is a play on one of her famous quotes "We live and breathe words."
I had a terrible time coming up with a name. I tried all the generic ones "Shannon Loves Books" and other such nonsense) but finally came up with this one- it's a quote from Catching Fire, which is perfect (when Plutarch is dancing with Katniss, and he tells her he has a gamemaker meeting, shows her his Mockingjay watch and says "It starts at midnight" pointedly- this also comes back around later of course. Anyway, plus the fact that the only I time I was ever blogging was quite literally at midnight… it just kind of worked!
Frequently I've thought about changing my blog name because I felt it was WAY too long – and honestly, it IS long. At 15, I didn't THINK about specifics and just wanted a name. Funny enough, I was opening a gift in Wizard101 and got a bobblehead named Milos Bookwyrm, who is a side character. He's in a world called Dragonspyre, so that's kind of how I imagined the blog to be? I know I started with an owl, but I FINALLY got a dragon, which I think fits the name MUCH better. I didn't want to use my name either, in the case I wanted to add other people or be too centered on books in case I went beyond. My core IS books, so while I've branched beyond (and now feel like I'm in a niche crisis), Bookwyrming Thoughts still fits?
I remember when I wanted to start my blog, that I kept thinking of things I wanted to do with it. Books, without a doubt but.. I wanted something more than that? Some other "part" of me to incorporate as well. Which is how I came upon food but.. that sounded so lame – and everything else I came up with as well, until I started looking for something more fun than "food". Aaaand then Books & Munches was born, hah. Haven't regretted it once since!
I was reading A Dance with Dragons at the time and as I was racking my brain of something that was a little different A Dance with Books came forward, haha. Thanks George R.R. Martin.
My name came from a desire to be candid and something that went along with books.
My blog's name is a mash-up of two book club name ideas that were bounced around with me and my friends (Book Sniffers & Bibliophiles Anonymous). However, when our book club idea fell through, I started my blog. Both of those names were taken on Blogspot at the time, so I wound up combining the two to get Book Sniffers Anonymous… and the rest is history.
Mine is rather simple. I was always a dog person and so my nicknames and user names tended to reflect that more often than not. When I adopted my cat Parker, I wanted to show some love to my cat as well. And frankly, Musings of a Bookish Kitty has a nicer ring to it than Musings of a Bookish Puppy or dog–or even Canine. At least to my ears. Combining books with my love for animals was a good fit for me.
My blog name crushingcinders was first an online password made up one day when I was frustrated with the image of the perfect princess being how women are compared with.
I wanted something to do with reading and something to do with the night (since I love both those things), and I really like alliteration, so "Metaphors and Moonlight" is what I came up with and what stuck.