Normally I do this on the second Friday of the month, but I'm a bit late. You can still link up your own Glossies related posts at the bottom of this post though. Today I am going to share some celebrity poetry books because a lot of famous people seem to enjoy writing poetry.
Glossies Made Me Do It: Woman's Day Magazine
any affiliate links allow me a small % of any sale at no extra cost to you 
please pin the below image to help me spread the word!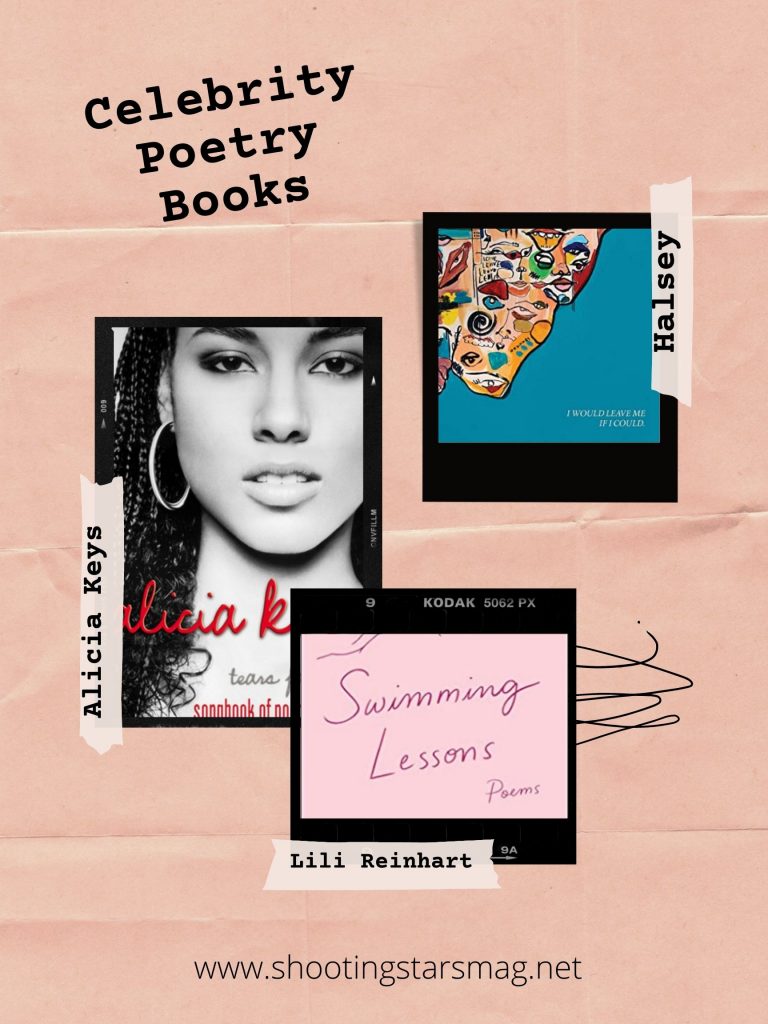 In the April 2021 issue of Woman's Day magazine, they highlighted a few poetry collections since April is National Poetry Month. This made me think of all the celebrities I knew of that had poetry. I figured it would be fun to share some of them here in case anyone is curious. I have not read any of these myself but I am definitely interested in some of these celebrity poetry books.

Dark Sparkler by Amber Tamblyn
Official Description:  Featuring subjects from Marilyn Monroe and Frances Farmer to Dana Plato and Brittany Murphy–and paired with original artwork commissioned for the book by luminaries including David Lynch, Adrian Tomine, Marilyn Manson, and Marcel Dzama–Dark Sparkler is a surprising and provocative collection from a young artist of wide-ranging talent, culminating in an extended, confessional epilogue of astonishing candor and poetic command.
Why I Want to Read This: Amber actually has a few poetry collections but this one really stood out to me since it deals with famous women who have died too young. I am very curious to see how these all work, especially with the original artwork that was done for the book. It just sounds like a fascinating study of women.
About Amber Tamblyn: She is an actress, commonly known for her role in the Sisterhood of the Traveling Pants films. You might also know her from Joan of Arcadia, House, and Two and a Half Men.

Tears for Water: Poetry & Lyrics by Alicia Keys
Official Description: Though Alicia has been very vocal through her career, there were always "delicate thoughts" that she never before imagined she'd share with anyone else–until now. In Tears for Water, Alicia Keys opens the journals and notebooks that she has kept throughout her life and reveals her heart to her fans in return for all the love they have shown to her and her music.
Why I Want to Read This: I don't know a ton of Alicia Keys' music but what I do know is very good. She is obviously a great writer, so I am a bit fascinated to read a book with some of her poems and lyrics.
About Alicia Keys: She is a singer-songwriter-pianist. She has many hit songs such as "Fallin'" and "Girl on Fire." She has also been a judge on the singing competition The Voice.
The Life of a Wannabe Mogul: Mental Disarray by Bella Thorne
Official Description: The Life of a Wannabe Mogul: Mental Disarray, Bella Thorne's collection of illuminating and inspiring poems chronicles her personal struggles, relationships, and wild-child lifestyle, all with her trademark wit and wisdom.
Why I Want to Read This: To be honest, I haven't seen Bella Thorne in much but I am so curious by the description of this poetry collection. I am sure that being a child star is rough on most, so I think it would be interesting to kind of get her perspective on that – among other struggles she's gone through.
About Bella Thorne: Bella is a 23 year old actress, who has starred in movies such as Blended and The Duff. She is also a singer, with her most recent single called "Phantom."

I Would Leave Me If I Could.: A Collection of Poetry by Halsey
Official Description: In this debut collection, Halsey bares her soul. Bringing the same artistry found in her lyrics, Halsey's poems delve into the highs and lows of doomed relationships, family ties, sexuality, and mental illness. More hand grenades than confessions, these autobiographical poems explore and dismantle conventional notions of what it means to be a feminist in search of power.
Why I Want to Read This: I just love Halsey and her lyrics so I am pretty excited about her having a book of poetry available. Plus, they are all about her life and feelings, so it's kind of like a poetic autobiography.
About Halsey: She is a 26 year old singer-songwriter, born Ashley Frangipane. She is known for her hit songs such as "Without Me" and "Graveyard."

Never Broken: Songs Are Only Half the Story by Jewel
Official Description: Along her road of self-discovery, learning to redirect her fate, Jewel has become an iconic singer and songwriter. In Never Broken she reflects on how she survived, and how writing songs, poetry, and prose has saved her life many times over. She writes lyrically about the natural wonders of Alaska, about pain and loss, about the healing power of motherhood, and about discovering her own identity years after the entire world had discovered the beauty of her songs.
Why I Want to Read This: I don't really know much about Jewel or her music, but this sounds like a powerful collection of poetry. I think most people can relate to trying to figure themselves out, even if you aren't someone in the public eye.
About Jewel: She is a singer-songwriter, releasing hits such as "Who Will Save Your Soul" and "Foolish Games."

Swimming Lessons: Poems by Lili Reinhart
Official Description: Swimming Lessons explores the euphoric beginnings of young love, battling anxiety and depression in the face of fame, and the inevitable heartbreak that stems from passion. Relatable yet deeply intimate, provocative yet comforting, bite-sized yet profound, Lili's poems reflect her trademark honesty and unique perspective. Accompanied by striking and evocative illustrations, Swimming Lessons reveals the depths of female experience, and is the work of a storyteller who is coming into her own.
Why I Want to Read This: I may not be famous but I do struggle with anxiety and depression. I always appreciate when people highlight mental illness, so this is one of the celebrity poetry books that I would definitely like to read soon.
About Lili Reinhart:  She is a 24 year old actress, most known for her role as Betty on Riverdale.
***
Have you read any of these celebrity poetry books? Do you want to? Share in the comments!!
If you have your own Glossies post, link up here –
You are invited to the Inlinkz link party!