I'm linking up with Anne at In Residence for her monthly Currently feature…
View this post on Instagram
Celebrating: my birthday! It was on May 30th so over the long weekend, which worked out nice. I went to The Cheesecake Factory with my parents and sister, and then we met my sister-in-law and the kids at King's Island – an amusement park in Ohio.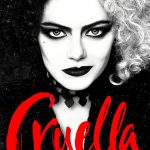 On Monday, my mom, sister, and I went to the movie theaters for the first time in over a year. We saw Cruella, which we all really enjoyed. Plus, we had the theatre to ourselves because we went to the first showing of the day!
Collecting: colorful gifts for some Pride giveaways I'll be hosting this month. If you aren't aware, June is Pride Month, and the symbol for Pride is a rainbow. I'm taking the colors and creating little prize packs to giveaway on my blog, Twitter, and Instagram – so make sure you're following me on social media! The red prize pack will be up in the next day or so, but I'm not telling you where!
I'm trying to include as many LGBT+ themed items (especially books) where I can, but not all the items will be specifically queer…they just fit the particular color!
Gifting: a June 2021 book release!! I'm currently co-hosting a monthly giveaway with Shannon at It Starts at Midnight where we give away a book that was released during that month.
It's a blog hop too, so other people are giving away books! Be sure to enter to win your choice of book from June 2021! If The Book Depository ships to your country, you can enter, so go go go!!! What June releases are you excited about?
Thinking: all sorts of things. That I need to schedule blog posts.  That I need to start working on my novel again. That I'm glad there are fun dance classes during the summer. That I'm ready for some summer fun. That I really need to work on my Spring bucket list and plan my Summer one. That I hope I can read more this month than I have been because I have so many books to get to. All that and much more.
Trying: to post on Instagram more often. I don't really have a consistent schedule, though I'm aiming for every couple of days. I do post mostly bookish things, but I am trying to share some other snapshots from my life too, because I find that enjoyable.
View this post on Instagram
For example, the above photo! I had my dance recital (my class had two dances – both tap) in the beginning of May. This is a photo of my brother, myself, and my sister after the recital, so you can see a bit of my costume for one of our numbers.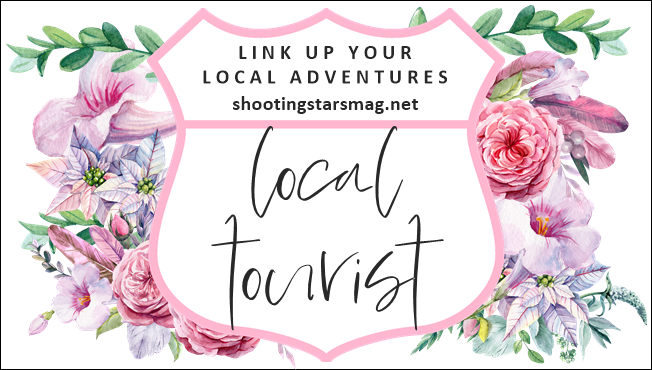 I'm also a couple days late, but I'm here for Local Tourist with Dara from Not In Jersey as well!
May was the month that I attended a couple in-person library events again. One was the YA for Adults book club that I've definitely missed, so it was great just being there. Another was a craft program with my mom where we made Patriotic Clothespin Wreaths. I think mine turned out really well! What do you think?
I painted every single one of those clothespins! Besides that part, it was actually a pretty easy craft. I want to replicate it with other colors sometime. I gave my wreath to my sister for her place since I live at home and we already have my mom's as decoration!
Most library craft events are still Take and Make – which means you get all the supplies and directions and you make them at home. My mom and I also recently painted these Ice Cream Cone Planters! Now we just need to get something to plant in them!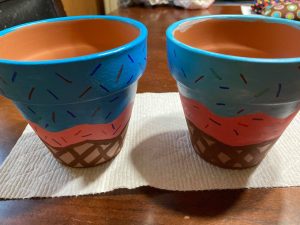 My mom's planter is on the left and mine is on the right. I think they both turned out really cute! I'll have to share a final photo once we have something for inside them! We did get a spray from Michael's so we can keep the pots outside though!
As I mentioned above, I also went to King's Island and saw the movie Cruella in theaters during the month of May. It was definitely a fun month to get out and about a bit more. I think I'll have more Local Tourist adventures to share at the end of June though!
Go on any local adventures recently? Link up here!
You are invited to the Inlinkz link party!