It's the first Wednesday of the month and time for another Currently with Anne of In Residence. I'll also be linking up with What's New With You tomorrow over at See You in a Porridge.
Anticipating: The AMC Oscar Showcase. I attended one day last year and I told everyone I would let them know beforehand this year in case they wanted to attend. Basically, a lot of AMC Theaters across the U.S. are showing the films nominated for Best Picture. They usually break it up into two days, though some places have 24 hour marathons. This will be my third year attending, and once again, I'm only going one day. I'll be going on February 16 and seeing three of the movies: The Favourite, The BlacKkKlansman, and Bohemian Rhapsody. Regal Theaters have their own Showcase, so you can look that up too! Anyone else going? What movies are you seeing?
Going: I shared the local places I visited in January on my Local Tourist post last week if you want to check that out. You're welcome to link up with us every month. For this month, I have quite a few plans so I'm excited. I love having things to look forward to!
Making: I attended a library event last week with a friend and we made silk paintings. I made this squirrel, which I think turned out kind of cute! It was a lot of fun.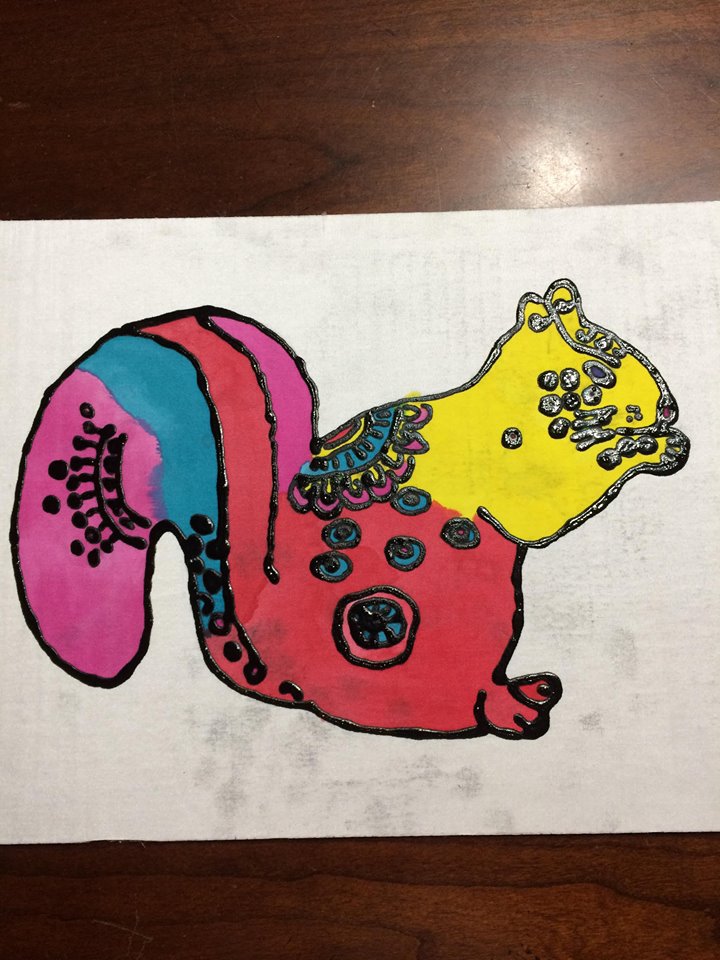 Watching: I watched all of Conversations with a Killer: The Ted Bundy Tapes on Netflix. I find serial killers to be fascinating. I just cannot fathom what makes someone kill, over and over again. Ted Bundy is especially intriguing because he was attractive and charismatic. It's how he got people to walk away with him and to believe in his innocence even. Definitely a fascinating documentary if you're interested.
Wearing: Lots of layers, for the most part. That polar vortex last week was rough, though I did get a day off work so that was nice. It was warmer on Sunday, but that's Cincinnati for you. It's like all seasons in one week. At any rate, I'm just trying to keep up – and stay warm!
Feb. 2019 Currently: What are you wearing, watching, and anticipating? #ontheblog #currently
Click To Tweet
****
I'm part of a blog tour for a picture book, and I was given today as my posting date, so hopefully you won't mind a mini review of this lovely book!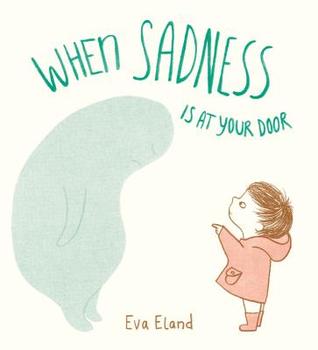 When Sadness Is At Your Door by Eva Eland
Review by Lauren
source: copy from publisher; all opinions are my own
Official Summary (add to Goodreads): In When Sadness Is at Your Door, Eva Eland brilliantly approaches this feeling as if it is a visitor. She gives it a shape and a face, and encourages the reader to give it a name, all of which helps to demystify it and distinguish it from ourselves. She suggests activities to do with it, like sitting quietly, drawing, and going outside for a walk. The beauty of this approach is in the respect the book has for the feeling, and the absence of a narrative that encourages the reader to "get over" it or indicates that it's "bad," both of which are anxiety-producing notions.
When Sadness Is At Your Door - a picture book review for young and old #ontheblog #bookbloggers
Click To Tweet
Review: I think the official summary is a wonderful definition at what this book is about, so for my review, I'm going to talk about the things that I just really loved about When Sadness Is At Your Door.
It's written very simply, and has cute, easy to understand illustrations.
Despite it's simplicity, it deals with a big topic. What is sadness? How do you live with sadness? Will it ever go away?
I loved that while this is a picture book, I could really see older kids and even adults enjoying and learning from this book.
The "main character" who has Sadness following them around, is a child, but I liked that the end pages give a bit of another story. The end pages in the beginning of the book show people of all ages standing around, with Sadness doing the same. The final end pages show people of all ages (and Sadness) doing everyday things like eating ice cream, petting a cat, just sitting, doing yoga, etc. It really shows that Sadness can follow anyone around.
This is such a lovely picture book, and I'm definitely a fan. I wish I could explain my thoughts a bit better, but this is one you might need to check out for yourself!
What do you think? Would you check out When Sadness Is At Your Door?