It's time for the second Keep It Together with myself and Simply Alexandra. This is where you can link up any planner, Project Life, scrapbooking, etc. post – old or new! If you link up, please hop around and visit other blogs! We'd love to have you!
Keep It Together: I'm showing off my entertainment Bullet Journal #ontheblog #bujo
Click To Tweet
Today, I'm going to share my Bullet Journal. This is the first year I've ever done a bullet journal and it's just for entertainment purposes. It's a work in progress, and even these pages probably aren't finished. I want to add some fun stickers/washi tape and maybe some more quotes. We'll see!
January and February Bullet Journal Pages
I know this is a bit blurry, but here is my January books read. I used a stencil for some of this but it was a bit flimsy and difficult, so I didn't use it afterwards. I do want to find more unique ways to share these lists though, so we'll see.
On the back of Books Read, I have a list of Books for Review (with where it's from, the date it comes out, and the check mark means I read it that month).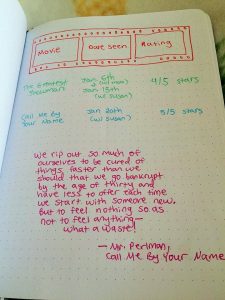 Again, I used a stencil for the top of this. I didn't re-use it, but I like the look and want to keep doing some unique things to liven up these pages! This is a list of the movies I saw in theaters – with the date I saw it, who I saw it with, and a star rating out of 5. I also included a quote from the movie Call Me By Your Name – which I LOVED! I've seen it twice now and I must own it. On the back of this page is a list of movies that came out in January that I wanted to see. I checked the ones I did see.
This is the list of books read in February – as you can see, I went with a simple list, switching up the colors.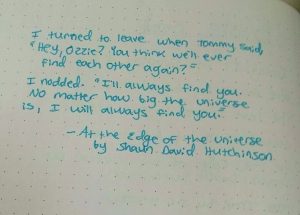 One of my favorite reads of February was At the Edge of the Universe by Shaun David Hutchinson, so I included a quote that really stood out to me and kind of sums up the book.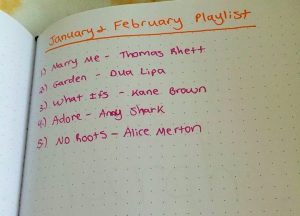 Finally, I included the January and February playlist under my February section, as it's something I came up with late but I didn't want to skip a month. March – and other months – will have its own playlist section. These are just five songs that I listened to and loved a lot during those months!
***
And that's it! Like I said, it's a work in progress. I might look into different stencils and I do want to add some planner/scrapbook type of things like stickers and washi tape. I'm also hoping to include more quotes throughout since that's something I love to keep track of and I don't usually do.
Tell me: do you have a bullet journal? What do you think of an entertainment only bullet journal?
Please link up with us, or just check out all the other posts!
Also- I'm co-hosting a $100 Cash Giveaway, so please be sure to check that out.