It's time for October's Keep It Together link-up, which I co-host with the lovely Alexandra. If you have a post about memory keeping, planners, scrapbooks, etc., we would love for you to link up below! Remember, this link-up is every third Thursday of the month, so you can join in at any time!
Keep It Together: What I Learned at a Bullet Journal Class #ontheblog #bujo
Click To Tweet
Bullet Journal Class
This month, I wanted to talk about the bullet journal "class" that I went to at my local library. I put class in quotes because it was more of an introduction to bullet journaling than anything. While I already knew what a bullet journal was (I have an entertainment-themed bullet journal for this year), I still wanted to attend to see if I learned anything new, and I did!
The librarian had these graph composition notebooks for everyone. Bullet journals are known for their dots, making it easier for you to write/draw in a straight line. I think these notebooks are a great way to start playing with a bullet journal because they aren't very expensive and they have lines to let you set it up like a normal bullet journal.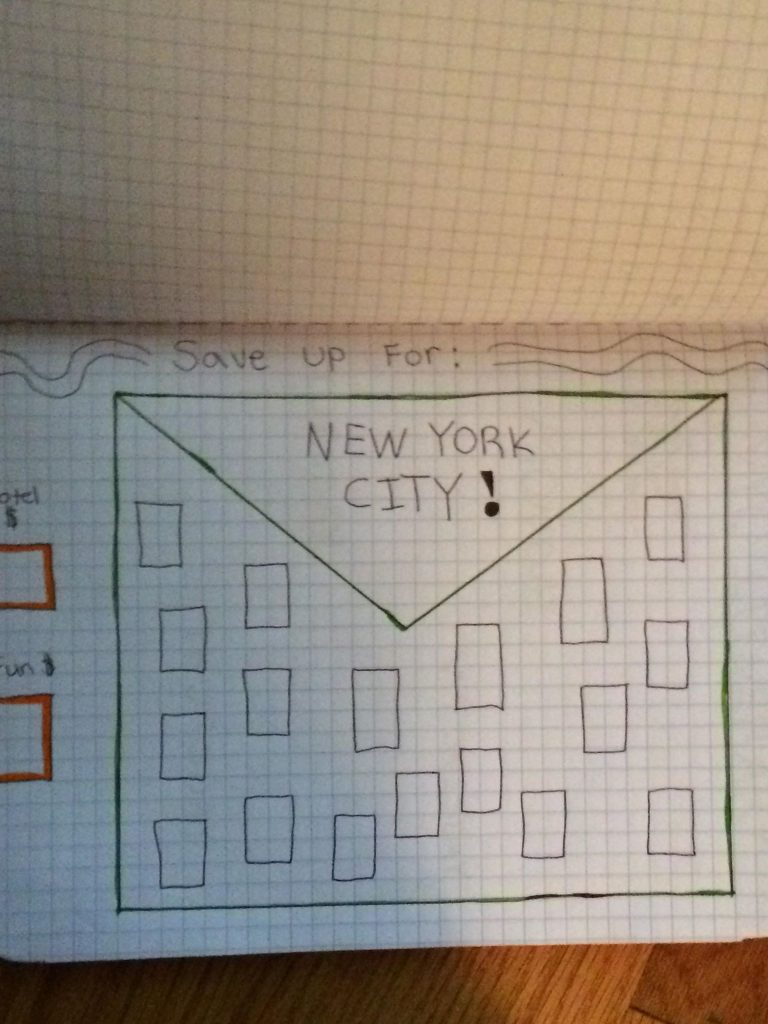 One of the things that I learned at this class was different ways to use the bullet journal. Sure, I've seen a lot of examples on Instagram and Pinterest, but I still saw some new things…like the image above. I copied the same idea, creating an envelope with boxes inside. I'm going to NYC next month and I figured this would be a good way to keep track of the money I have in savings. On the left, you can see that I put Hotel and Fun too. I already paid for my flight, but I'll pay for the hotel at the end, and Fun money really means everything else – food, places we go, any souvenirs, etc. I think it looks really cool too!
As I sat the library, I tried to think of other ways I could use this bullet journal and I immediately realized it would be a great way to keep track of what I got people for Christmas. As you can see above, I have my parents and my sister, Kari. I also have my nieces and nephew on the list, as well as an Other section for everybody else – friends, co-workers, bloggers I swap gifts with, etc. I'll probably have to make another page for some of this, but it's a nice start!
Obviously, a lot of people use bullet journals for everyday lists/tasks and I did make a section about halfway through the notebook, but I haven't used it for that yet. We'll see what I do, since I do have a regular day-to-day/monthly planner, but I think the idea of bullet journals are really fun. I wish I was more creative and/or artistic, but regardless, this is a nice way to keep track of things you might not otherwise have a place for!
Tell me: have you ever used a bullet journal? Would you be interested? What do you think of the pages I've made above? 
Have a post to share? Link up with us!
*sponsored link in post- all opinions are my own; no affiliate links included*