It's time for the April edition of Keep It Together, co-hosted by the lovely Alexandra. If you have any posts about planning, scrapbooking, Project Life, memory keeping, etc. please link up with us below! We'd love to have you every third Thursday of the month!
Keep It Together: April 2019
Alexandra has sold me on trying out Project Life for my scrapbook needs. I used to scrapbook a lot more often, but it's been years since I've really focused on it (though I did make a scrapbook as a wedding gift last Fall). Ever since I started reading Alexandra's posts about Project Life, I've wanted to try it out because I feel like it will allow me to still preserve these memories in a fun way but without as much work – or creativity- involved (which isn't always my strong suit!)
Project Life Supplies
I haven't started my album yet, but I did collect the supplies to begin. I'm going to make a Project Life album for my London trip, and don't worry – I'll share my progress along the way!
This is the album that I got. I actually saw one that was travel themed, but this album came with a fun kit and the other didn't, so I figured this was a better deal. I actually got it on Zulily, a site I love for fun deals! The album also came with the pages where you insert pictures and cards, like the ones below.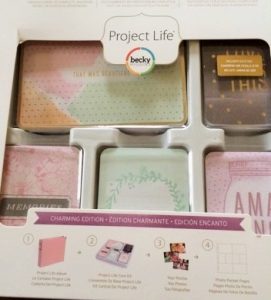 This is the Charming kit that I got with the album. I don't know how much of these cards I can use for the album, but I liked the look of it – and I can always save things for a future album.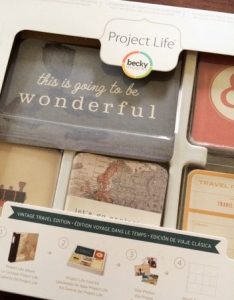 This other kit was actually the first Project Life item that I bought – it's the Travel edition of cards, so perfect for my London book, and I got it for sale at Tuesday Morning. I love that all of my items so far have been from deals!
Keep It Together #bloglinkup: Getting started on a Project Life album #ontheblog #projectlife
Click To Tweet
Until Next Time…
There you go! I have everything to finally get started on my first Project Life album. As I said above, I'll share updates in future Keep It Together posts, so keep an eye out! I'd love any tips or tricks if you've made Project Life albums before.
Now, if you have your own post, don't forget to link up!
You are invited to the Inlinkz link party!