*this post includes an affiliate link – all opinions are my own. Please pin image below!*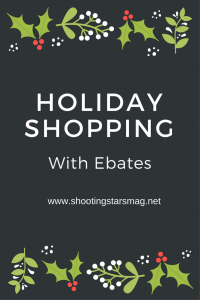 Tis the season for Holiday Shopping! Black Friday and Cyber Monday are coming soon, so there will sure to be a ton of great deals and coupons available. I have another, really easy, idea on how to save money if you're going to be buying gifts online. I really like getting as many gifts as I can online because it's easy and I can usually find more unique ideas than whatever is in stores.
Now, back to saving money! I'm here to introduce (or re-introduce) you to Ebates. This website is such a great way to save money when purchasing online because not only does it sometimes offer coupons/deals, it gives you cash back on every single order you make when using affiliated websites. Don't worry – there are so many companies that work with Ebates, so you're bound to be shopping on most sites that work with them. Just some of the many websites you can shop from and get cash back are Groupon, JC Penney, PersonalCreations.com, Sephora, The Book Depository and so many more!
The normal percent back from shops is usually around 1-4%, but it can definitely be higher. However, there are so many opportunities where the percent is doubled and you can get a lot more money back! As I'm writing this, you can get 8 percent cash back at Sephora and 16 percent cash back on PersonalCreations.com. Obviously, it might be different now, but this just shows you how much you can get back by using Ebates. If you're going to be shopping online, you might as well use Ebates and save some money in the process!
Doing any holiday shopping online? New post #ontheblog about how to save money!
Click To Tweet
Once you sign up, the amount you get back will show up in your account a little after each individual order so you can see exactly how much money you've earned back. There are different months when money is released – either through Paypal or Check – and you have to have at least $5 in your account for them to release it, but don't worry! It's not difficult at all to reach that five dollars. You can look at their website to see the schedule, but let's say you sign up now – any money earned back between October 1 and December 31 will be released on February 15. Pretty nice way to start out the new year, right?
One of the easiest ways to use Ebates is to install the Chrome Extension. This sits on your bar so when you visit a website that uses Ebates, a box will appear in the top right corner that asks if you want to apply the percent back. Click this and then get shopping! You can also go through the actual Ebates website, which is good if you want to see where the percent is at or if there are special deals going on. You'll also get emails letting you know about double cash back deals and other fun rewards so that you know just when to shop at a certain website!
I've been using Ebates religiously for the past couple months, but I won't get any of my money released until February, but it should be fairly high at that point, so it will be nice to get that in the mail (I'm signed up for the check). You also get money by having people sign up under your affiliate link – once they do and spend at least $25 at an affiliated website – I will get money for that referral. Don't worry, you still get your normal cash back from the order. Plus, once you're a member, you can start referring people yourself and earning even more money. I would love for you to sign up to help me raise money – which always helps with blog costs – but I also really believe in this website. They work with so many amazing companies/websites and since I love shopping online I like that it's one place I can go to save and earn back money.
What do you think? Are you ready to sign up for Ebates?
If you're already a member, share what you love in the comments!