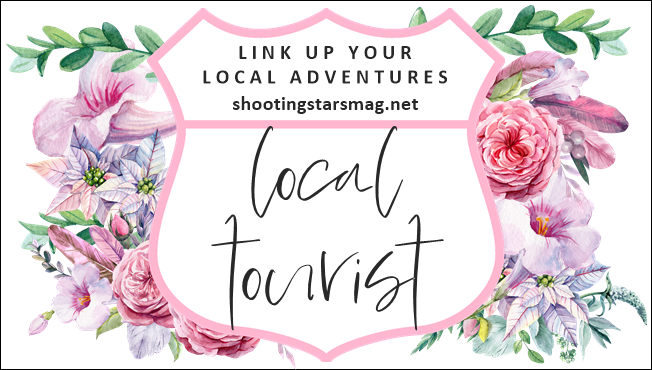 It's the final weekday of July and that means it's time for Local Tourist with myself and Dara from Not In Jersey. This is a monthly link up where we share all the local adventures we've been on. If you have something to link up, please do so at the bottom of the post!
Local Tourist and the Month of July 2021
On Friday, July 2, my parents, sister, and I went to the Taps, Tastes, and Tunes Festival in West Chester, Ohio. I love a good festival in the summer and this is one that none of us had been to before. It was a lot of fun though! I got food from my favorite food truck, The Hungry Bros. I hadn't had them in quite a long while because of Covid so that was great. It took place outside the National Voice of America Museum of Broadcasting, which ended up being a pretty nice location.
We all had a really good time, and the music was fun. The final group was The Everyday People Band who were really enjoyable! I definitely think we'll go back next year.
Thursday, July 15: It was the first day of Italianfest in Newport, KY – right on the Ohio River and across from Cincinnati. It was the best day to attend, weather wise, so my sister and I went for a couple of hours. We tried to get a few different things to eat.
Unfortunately, my sister didn't really love most of what she got, but I enjoyed my food overall! They had live music and various bouncy houses and things for kids to do.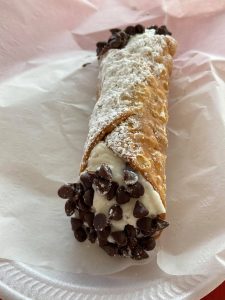 I got a Cannoli for the first time (pictured above). It was so good! I didn't realize that the cream in the inside was cold, but it was very refreshing. You could choose sprinkles or mini chocolate chips for the ends, but obviously I chose the chocolate chips.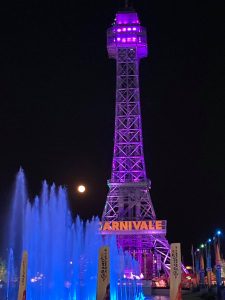 Friday, July 23 – my mom, sister, and I attended the Grand Carnivale at King's Island Amusement Park. I have an entire post about this so you can read more there!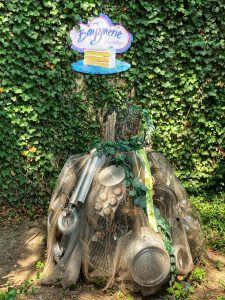 On Saturday, July 24, my sister and I had a really great day! First, we went to The BonBonerie Cafe to have tea. This was part of my gift for my sister's birthday (which was June 27).
We've done their tea before and it's always so much fun. We hadn't been in awhile so it was a great experience and the food was delicious as always!
It's a fixed price for a tray of various foods and your choice of tea (or other drink). I'm not an actual tea drinker, but my sister chose something. The waitress brings out the tiered tray and each level has various food items.
The top tier is little sandwiches – there is egg salad on a biscuit of sorts, cucumber sandwiches, and more.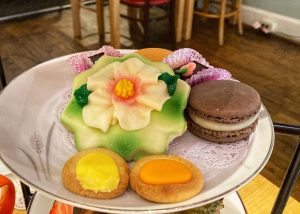 The middle tier has the desserts – macarons, thumbprint cookies, and more. All very yummy!
The bottom tier is a mix of things – quiche, fruit, scones. For the scones, they brought out jam and clotted cream. I used the jam on some of the scones and it was so good.
TheBonBonerie also has a bakery so you can go and just buy various items too. I highly recommend the tea if you ever visit, or live in the Cincinnati area!
Later on Saturday, July 24, my sister and I went to the Memorie Makers Café & Cupcakery. We'd never been but it's something I wanted to check out. The reason we went, though, was because they had a Cupcake & Canvas Night.
In a corner of the shop, the painting area was all set up. My sister and I ended up not using the easels, because we found it easier to paint with the canvas lying down. The painting was a beach scene that the owner of the Café showed us how to paint step by step.
About halfway through the painting, we had to wait a bit for things to dry, and that's where the cupcake part of the night came in! We were all allowed to choose one cupcake and we could eat it there, or take it home. My sister and I both opted to take ours home.
My sister's is on the left – it's a Strawberry Neapolitan Cupcake, I believe (or something of the sort), and I went with Funfetti!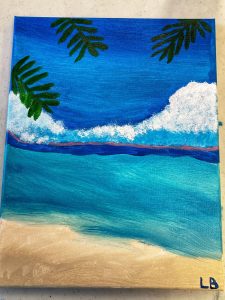 Then we finished up our canvases and took them home! Mine is above – I don't have a photo of my sister's – but I think it turned out really well. I wasn't really sure for awhile there, but I think it's pretty obvious that it's a Beach Scene. LOL I haven't done one of these canvas painting nights in awhile, so it was fun to get back into it. I'm not the best, but I do like painting!
***
And that's about it for now! I do have some plans for tomorrow – the final day in July – but I suppose I'll just have to share more about that in August.
Have you gone on any local adventures in July? Link up here!
You are invited to the Inlinkz link party!