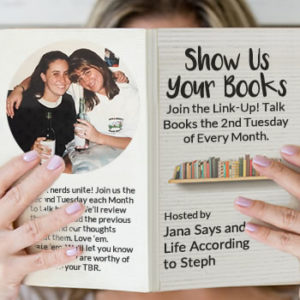 Happy 2nd Tuesday of the Month, and that means Show Us Your Books by Jana and Steph
I feel like my reading in the past month picked up some, though I didn't read all the books I was hoping to get to. Alas, it's a new month, and I'm hoping June will be a bit more successful.
all purchase links are affiliate links; I get a small % of any sale at no extra cost to you

Ghosts of Weirdwood by Christian McKay Heidicker 
This is the second book in a series – the first being Thieves of Weirdwood. I absolutely adored Thieves of Weirdwood, so I was excited when given the chance to read and review (thanks Netgalley!) Ghosts of Weirdwood. It could be a case of bad timing, but I found it a bit slower than the first book. Regardless, I still really enjoyed the book. It's a middle grade book but I don't think it felt too young. After all, it's a fantasy and the main characters are essentially on their own – since the book takes place in the past. Parents are sometimes mentioned, or shown, but they aren't really around. It's up to Arthur and Wally – former thieves and now aware of a world full of magic and mayhem – to survive. I love the secondary characters, especially a girl ghost who wants to return to her body, though she's a huge help when in ghostly form. I believe there is only one more book left in the series and I will definitely be reading it when it's released.
If you haven't read it yet, be sure to grab a copy of Thieves of Weirdwood too!

Quiet: The Power of Introverts in a World That Can't Stop Talking by Susan Cain
I read Quiet for one of my book clubs, and while I found it pretty fascinating overall, the rest of the group did not enjoy it as much. I will admit that Cain can be quite repetitive throughout, and it's not a book that I'd go back and re-read. However, I am glad I gave it a chance, because I identify as an introvert and I think some of the examples she gave were pretty fascinating. The United States is a country that really praises extroverts – think group projects and open office floor plans and being the loudest in a meeting even if you aren't giving the best ideas. The book does show introverts how they can use their own skills to be seen and heard, but it also acknowledges that just because people seem to love extroverts, it doesn't mean they are smarter or better in any way.
— library copy; all opinions are my own
Just Peachy: Comics about Depression, Anxiety, Love, and Finding the Humor in Being Sad by Holly Chisholm
I'm always fascinated by books that deal with mental health and self-care, and I'm especially a fan of those that can so in the form of graphic novels or comics. Just Peachy is a bunch of different comics focusing on depression, anxiety, love, etc. By the end, the book tells a semi-cohesive story by Holly (aka her own life) which was nice. I will say that I didn't necessarily care for most of the comics. I have depression and anxiety myself, but even so, I've seen other artists capture my attention better. It's tough to judge a book like this though because it is personal, so it's something I'd still recommend for those interested!
— library copy; all opinions are my own

Dear Haiti, Love Alaine by Maika Moulite and Maritza Moulite 
This is a YA book I've owned for a little while, so I was glad to finally sit down and read it. I love that Dear Haiti was written by two sisters, and that they took a lot from their own childhood and culture. I think the family dynamics for Alaine were really interesting too. Plus, I'm a big fan of books that tell stories in diary format (which Alaine essentially does) with some extras thrown in here and there like emails and postcards. I do think the book was probably longer than it should have been. There's also a lot about a family curse once Alaine goes to visit family in Haiti, and I get that it was a cultural thing, but I think it overtook some of the other themes or storylines that could have been built up more…especially the newfound bonding between Alaine and her mom.
— personal copy; all opinions are my own
And now some book reviews that I posted on the blog since the last link up!

Little Allies: A Children's Story about Inclusion, Diversity, and Becoming an Ally by Julie Kratz
From my review: I wouldn't say the story is entirely realistic in terms of all these experiences happening in a week and one girl being the person who notices and appreciates the differences in others. Regardless, it's a good book to show examples of how people can be different, yet the same. It would also serve as a way of showing children how they too can stand up for their friends, perhaps even copying some of the things that Ally said or did.

Six Thousand Doughnuts by Thomas Tosi
From my review: I loved getting to know Abe's whole family, including his parents and cousin who moves in with the family! They all came alive on the page for me.
The black and white illustrations were fantastic and I absolutely adored the fact that Thomas Tosi's daughter, Meaghan, was the one who drew them. She's a wonderful artist.

Pawcasso by Remy Lai
From my review: I loved Pawcasso, the book and the dog in the book. It was fun seeing Jo open up more and get to know kids her age. I felt bad for her because her dad worked away from the family most of the time and she tries to tell herself she doesn't care when he visits, so she won't be really sad when he leaves. This was touched on throughout the book, and I thought it was handled well.

Pizazz by Sophy Henn
From my review:  Pizazz is a really fun new character for middle school readers – especially those that aren't the biggest fan of books! It's full of fun fonts for certain words and even more enjoyable illustrations throughout. For me, I read this in one day, so it's a fairly quick one overall!
View this post on Instagram

Hani and Ishu's Guide to Fake Dating by Adiba Jaigirdar
From my review: I hated that Hani's friends made her feel like she couldn't be bisexual if she'd never been with a girl. That's a common theme when it comes to bisexuality – even though nobody says you can't be straight if you've never been with, well, anyone. Despite this, Hani wants to prove to her friends that she understand herself, so she makes a deal with Ishu. The reason Ishu agrees? She wants to be Head Girl, which is essentially a popularity contest to win. It's something her sister never achieved and Ishu is desperate to show her parents she is following the plan, even if her sister no longer is when the book takes place.
View this post on Instagram
Have you read any of these yet? Would you want to?