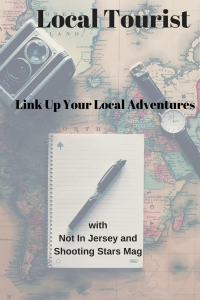 Local Tourist with Not In Jersey – And Another Personal Update!
It's the final weekday of the month, which means it's time for Local Tourist! Did you do anything fun this month where you live? Share on your blog and link up with me and Dara from Not In Jersey.
Yes, I'm a bit late in posting today – which I apologize for! It's been a crazy week and a half. To update you all, my sister is now home from the hospital. You can read my original post here if you're confused. She had her initial surgery last Thursday, but they realized there might be some bad cells left over (her cortisol levels weren't dropping enough) so they went back in on Monday and looked around.
Local Tourist: June 2018 - do anything fun where you live this past month? Link up with us! #linkup #ontheblog #localtourist
Click To Tweet
And guess what? She had another hidden tumor! So that's out and she did a lot better after that one – and we all came home yesterday. My mom and I had been staying in a hotel down in Lexington, KY the entire time, so it's good for all of us to finally be home! Thank you so so much to all the well-wishers and for thinking of us, especially my sister! She's got a little while to recover before going back to work, but she's in good spirits! Just pretty tired. I'm thinking of doing a living out of a hotel/hospital post if you'd be interested! However, for today's Local Tourist, I'm going to direct you to a post I got up earlier this week. It was actually May 31, but Local Tourist had already gone up for May, so I'm sharing for June!
Have something to link up?
I'll visit you ASAP!