Somehow we have made it to May already and it's time for Currently, hosted by Anne at In Residence
Currently: May 2021
If you know my blog well, then you might have noticed that I missed Local Tourist on Friday. I didn't really have any local adventures to share, but it's also been a bit of a rough week. You can always check it out on Dara's post.
Consuming: well wishes from friends and family. A week ago today, April 28, my grandma passed away. We knew she'd been having kidney issues for awhile now (years ago, she had a kidney transplant) but less than a week before she died, we learned she had cancer in a couple places – including breast cancer. It was very sudden, but she was surrounded by her husband and her three daughters, which includes my mom. It's still a bit strange to think about – and I'm emotional off and on, but I've really appreciated everyone's lovely thoughts on Facebook, Instagram, and text.
Exploring: things to do this summer. Last year we had Covid without vaccines, but I was also dealing with a lot of health issues. Basically, I didn't really do a whole lot beyond visiting doctors left and right. I'm hoping this summer will be a bit more interesting. We'll see what type of activities come back this year – or what else I'll see that might be fun to do. I'm one of those people that like to plan things and have stuff to look forward to, so *fingers crossed* it'll be a good summer in that regard.
Getting: a free add-on from Book of the Month. Since May is my birthday month, I got to add an extra book to my blue box this month – free of charge!! I went with The Last Time I Lied by Riley Sager. I've only read one book by him, and I want to get to the rest, so I figured I'd start here next. New to Book of the Month? You can use my affiliate link to sign up if you wish – Use code MAYREADS to get your first book for only $9.99!!
*affiliate link; I get a small % of any purchase at no extra charge to you*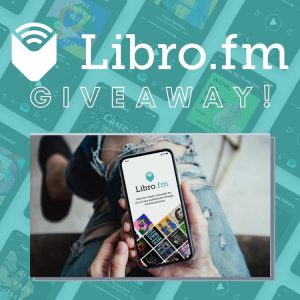 Hoping: that more people see and enter an Instagram giveaway I have going on. For all you audiobook lovers, you can win a 6-month subscription to Libro.fm (open to U.S. and Canadian entrants). It ends on Sunday, May 9th. If you aren't an audiobook person, you can always enter and if you win, "gift" your subscription to someone else.
Seeing: a movie in an actual theater – hopefully. My birthday is on May 30, and one way that I'd love to celebrate is to actually see a movie in theaters. I haven't been to a movie theater since March 2020 when a friend and I saw Onward. I'm thinking it might be fun to see Cruella (which comes out May 28), but we'll see. I'll even take seeing a movie at the drive-in theater (that one is actually something I need to cross off my Spring bucket list). 
Be sure to keep an eye on my right sidebar. I'm trying to keep a running list of all the giveaways I have going on. A May 2021 book of your choice, Audiobook Subscription, and lots of Stephen King themed giveaways for my Spring Into King month! You don't want to miss them.