I'm taking part in the Read the Alphabet challenge, and May's letters were I and J. These are a few of the books I read this month – all from my own shelves! You can still take part in this challenge if you want, so do visit the link if you're interested. Next month's letters are, of course, K and L.
Is It Just Me? By Miranda Hart
Source: personal copy; all opinions are my own
Official Summary (add to Goodreads): Does everybody struggle with the hazards that accompany, say, sitting elegantly on a bar stool; using chopsticks; pretending to understand the bank crisis; pedicures – surely it's plain wrong for a stranger to fondle your feet? Or is it just me?
I am proud to say I have a wealth of awkward experiences – from school days to life as an office temp – and here I offer my 18-year-old self (and I hope you too dear reader) some much needed caution and guidance on how to navigate life's rocky path.
Review: I first discovered actress and comedian, Miranda Hart, when I saw the movie Spy starring Melissa McCarthy. Afterwards, I saw some episodes of her TV show Miranda and fell even more in love with Hart's brand of comedy. Therefore, I was excited to finally sit down and read her book, Is It Just Me? And no, Miranda, it is not just you!
This book is a memoir of sorts, but it's broken into chapters where Miranda focuses on specific topics like Beauty and Culture. At the same time, she's addressing the reader – and her 18 year old self who pops in and out to add her thoughts and exclaim at all the weird things the future has. I liked aspects of 18 year old Miranda, as it's the author's way of showing that what you thought you wanted when you were 18 isn't necessarily your path in life. However, I also could have done without it. Miranda addressing the reader didn't bother me though! All in all, I really enjoyed this one. There were definitely moments of literally laughing out loud, and that's always a positive!! I could relate to a lot of what Miranda said and I loved her writing style – it was fun and amusing, but also very down to earth and real.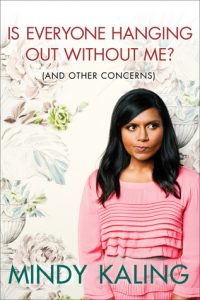 Is Everyone Hanging Out Without Me? (And Other Concerns) by Mindy Kaling
Source: personal copy; all opinions are my own
Official Summary (add to Goodreads): Perhaps you want to know what Mindy thinks makes a great best friend (someone who will fill your prescription in the middle of the night), or what makes a great guy (one who is aware of all elderly people in any room at any time and acts accordingly), or what is the perfect amount of fame (so famous you can never get convicted of murder in a court of law), or how to maintain a trim figure (you will not find that information in these pages). If so, you've come to the right book, mostly!
Review: I'd previously read Kaling's book Why Not Me? but I still hadn't read her first memoir – Is Everyone Hanging Out Without Me? I'm glad that I finally got to this one, but it wasn't my most favorite. I like what I know of Kaling and I think she's a great actress, but I didn't necessarily love her humor throughout the book. It wasn't bad by any means, but I'd really only suggest the book for those that really love Mindy already!
Jackaby by William Ritter
Source: personal copy; all opinions are my own
Official Summary (add to Goodreads): Newly arrived in New Fiddleham, New England, 1892, and in need of a job, Abigail Rook meets R. F. Jackaby, an investigator of the unexplained with a keen eye for the extraordinary–including the ability to see supernatural beings. Abigail has a gift for noticing ordinary but important details, which makes her perfect for the position of Jackaby's assistant. On her first day, Abigail finds herself in the midst of a thrilling case: A serial killer is on the loose. The police are convinced it's an ordinary villain, but Jackaby is certain it's a nonhuman creature, whose existence the police–with the exception of a handsome young detective named Charlie Cane–deny.
Review: I didn't read the summary of Jackaby before reading it, and therefore, I didn't realize this one included supernatural beings! I'm not complaining though. Goodreads called this a mix of Doctor Who and Sherlock Holmes and I can agree with that. The book is narrated by Abigail Rook, a young woman trying to find work and provide for herself since she ran off from school in England. She ends up meeting Jackaby, a Holmes-esque character who sort of consults for the police and notices all the little things people often miss. He also happens to see and communicate with those of the supernatural realm – so the cases he helps with involve these types of creatures, and not your everyday crime that the police can handle on their own.
I really liked Abigail. Like Watson, it's nice to get an outside perspective of Jackaby and the way he works. At the same time, Abigail notices things that Jackaby misses – the more ordinary clues that can still help. She's a very strong person who is determined to have adventures and live her life the way she wants. As for Jackaby, he's good fun! He does and says some crazy things, but he's very much a genius in his own right. Plus, he's unintentionally funny (again, like Sherlock Holmes) and that's always enjoyable. This is the first book in a series and I hope to continue soon!
***
I also wanted to take this moment to remind you about my two big Birthday giveaways going on now!!! I'd love for you to enter and/or spread the word. Click the images to enter these giveaways!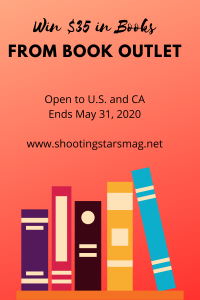 View this post on Instagram
Win 3 Months to the subscription service Book of the Month – U.S. only, I'm afraid, as they only ship within the states. This giveaway ends Friday, May 29! If you want to sign up for Book of the Month, feel free to use my affiliate link.